Ok, let's all admit we pin things to Pinterest and may never actually get around to making them. I have recipes I pinned forever ago and they've just never made it to reality. Not these No Bake Oatmeal Bites. I had the ingredients on hand (which is rare) and made them hours after pinning them. They have all the ingredients I love in a snack: peanut butter, coconut, chocolate chips, but with a (sort of) healthy twist.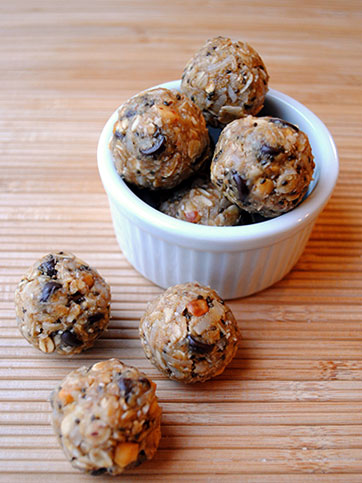 So, how's it taste?
Oh. My. Gosh. Stop reading this and make these. Crazy, crazy good. Remember those unbaked fudge cookies that everyone eats? They're similar to that, but way better. I liked the different textures of the ingredients, especially the crunchy chia seeds. I put (sort of) healthy above because they really aren't to me. I know they're full of the good for you fats and such, but they are pretty high in calorie count per bite…and they're so insanely good that I had no problem devouring several at a time. So, healthy kind of went out the window with these for me. I also renamed them from energy bites. They didn't give me a boost of energy, but probably because I sat on my couch eating them like bon bons. Since they are more like dessert to me, I thought a rename was fitting.
You can really play around with the ingredients and make it your own. I used crunchy peanut butter, but you could use smooth or another type of butter. This recipe comes from Gimme Some Oven and there's a few flavor variations that sound just as scrumptious that I'm dying to try. I'm already brainstorming about a white chocolate chip-cranberry or butterscotch-walnut version! These are great for grab and go, but you've been warned of their highly addictive power!
No Bake Oatmeal Bites
Ingredients:
1 cup old-fashioned oats
2/3 cup coconut flakes (toasted if you prefer)
1/2 cup peanut butter (smooth or crunchy)
1/2 cup ground flaxseed or wheat germ
1/2 cup chocolate chips
1/3 cup honey or maple syrup
1 tbsp. chia seeds
1 tsp. vanilla extract
Directions:
1. Mix all ingredients in a bowl until combined.
2. Chill in the refrigerator for about an hour, so mixture is easier to work with.
3. Roll into balls in whatever size you prefer. I found it's easier to knead a scoop for a bit and then roll into a ball. If you find the mixture becomes difficult to roll into a ball and won't stick together, rinse your hands with water and try again.
4. Store in an airtight container for up to 1 week. You can store them in the refrigerator or at room temperature. I found I enjoyed them both cold and at room temperature.