I first made marshmallows almost a year ago. Remember the Toasted Coconut Marshmallows? They were so good. Homemade marshmallows blow those store-bought nuggets out of the water. I don't know why I don't make them more often. When I saw my friend Julia over at Fat Girl Trapped in a Skinny Body tweet about Gingerbread Marshmallows, I made plans to make them that very weekend.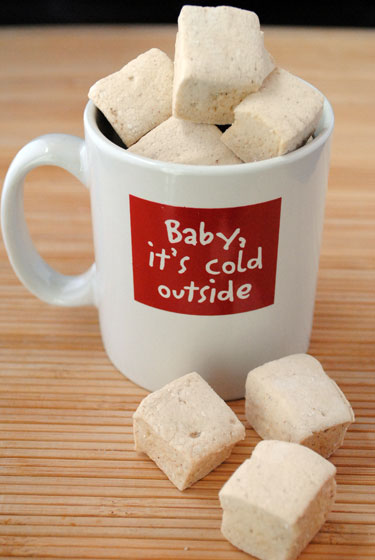 So, how's it taste?
They are so light and fluffy and perfectly spiced. They aren't too overwhelming as to take over your drink, but they give an extra punch that is incredible. They put the warm and fuzzies in a cup of coffee or cocoa. Speaking of cocoa…while I fully admit I buy those packets of cocoa mix and they taste great, I also have a recipe for fantastic homemade cocoa. It's Christmas Cocoa and you probably have the ingredients for it in your pantry. It's chocolate, cinnamon, and nutmeg and these marshmallows are perfect to top it off.
Now if you really want a special marshmallow treat, try making s'mores using Gingerbread Marshmallows! Julia suggested this in her blog post and I tried it using cinnamon graham crackers and chocolate chips (what was already in my pantry). Wow! I'll never want regular s'mores again. The spices in the marshmallows are heavenly with chocolate (which is why the homemade cocoa is so darn good). These would make great gifts for family and friends, too.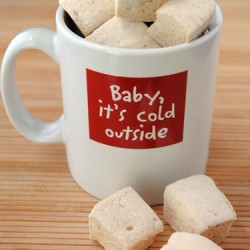 Gingerbread Marshmallows & Christmas Cocoa
Ingredients:
Marshmallows
3 envelopes unflavored gelatin
1 1/2 cups loosely packed brown sugar
1 cup light corn syrup
1/4 tsp. kosher salt
1 1/2 tsp. ground ginger
1 1/2 tsp. ground cinnamon
1/2 tsp. ground cloves
1 tbsp. pure vanilla extract
Confectioners' sugar, for dusting
Cocoa
1/2 cup sugar
1/4 cup unsweetened baking cocoa
1/3 cup water
1/2 tsp. ground cinnamon
1/4 tsp. ground nutmeg
4 cups milk
Directions:
1. For the marshmallows, prepare a 9x13-inch baking dish with parchment paper, using a bit extra so that the paper hangs over two sides of the dish. Dust generously with confectioners' sugar. In the bowl of an electric mixer, using the whisk attachment, combine the gelatin and 1/2 cup of cold water. Let sit.
2. In a small saucepan, combine the brown sugar, corn syrup, salt, and 1/2 cup water. Cook over medium heat until the sugar dissolves. Raise the heat to high and cook until the syrup reaches 240 degrees on a candy thermometer. Remove from heat.
3. With the mixer on low speed, slowly pour the sugar syrup into the dissolved gelatin and add the spices. Increase to high speed and whip until the mixture is very thick and gets lighter in color, about 15 minutes. Add the vanilla and mix thoroughly.
4. Pour the mixture into the prepared dish and smooth the top with a spatula. Dip the spatula occasionally in a bit of water to make it easier to smooth out the top. Dust the top with more confectioners' sugar. Allow the marshmallows to sit uncovered overnight (or for at least 8 hours).
5. Dust a cutting board with confectioners' sugar. Using the two flaps of parchment hanging on the sides, lift out the marshmallows onto the cutting board and peel off the parchment paper. Cut into strips and then cut the strips into squares. Dust marshmallows with more confectioners' sugar as you're cutting to help it not stick.
6. For the cocoa, in 2-quart saucepan, heat sugar, cocoa, water, cinnamon, and nutmeg over low heat. Stir constantly, until mixture is smooth. Heat to boiling; reduce heat. Simmer 4 minutes, stirring constantly.
7. Stir in milk. Heat over low heat. Pour cocoa into 6 mugs. Top with gingerbread marshmallows.