Another successful cookie baking day is in the books! Last Saturday mom and I did our annual cookie baking. Six different recipes of all kinds of cookies! First up were these German Chocolate Cake Cookies. You'll notice there's no actual German chocolate in the recipe, but it's still got that fabulous combination of chocolate, pecans, and coconut. If you're a chocoholic like me, you're going to love these! We scooped our dough a little smaller than the recipe called for, so it made a lot of cookies. The more the merrier, right?!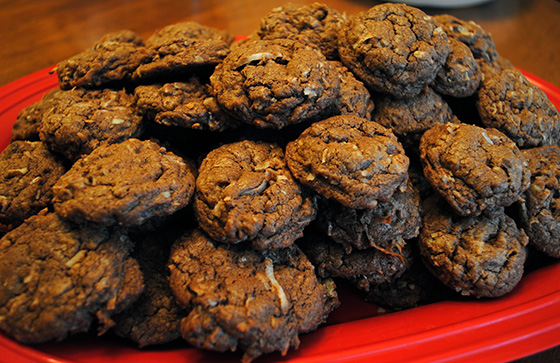 So, how's it taste?
You know you're off to a good start when the first batch out of the oven produces "Oh my gosh these are good!" You should pace yourself on cookie baking day because there will be lots of eating, but I really wanted to keep shoveling these in my mouth. They were so chocolate-y and so good! They really taste like German chocolate cake! I'm a huge fan of nuts and chocolate together (especially pecans), but add coconut and I'm over the moon. The cookies are soft and chewy and the perfect companion to a huge glass of cold milk.
My one complaint about these cookies is that they don't stay fresh very long. It usually takes a few days for most cookies to start drying out, but these were headed that way in less than 24 hours. A huge bummer since I mail out boxes of cookies and some take three days to get to their destinations. I did pack these cookies next to crispy cookies, so I'm not sure if the crispy ones sucked the life out of these or if that's even a thing. I guess when I make these again I'll just have to keep them all to myself. 🙂
Other goodies from Cookie Baking Day 2013:
Cream Cheese Spritz Cookies
Milky Way Red Velvet Cake Cookies
Dark Chocolate Walnut Oatmeal Cookies
Gooey Butter Cookies
Vanilla Orange Cranberry Cookies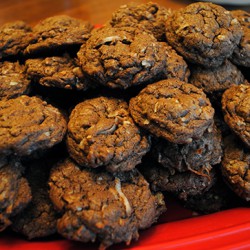 Yield: 3 dozen
Prep Time: 20 min
Cook Time: 10 min
Total Time: 45 min
German Chocolate Cake Cookies
Ingredients:
2 sticks butter, softened
1 cup light brown sugar
1 cup granulated sugar
2 tsp. vanilla extract
2 large eggs, beaten
2 1/4 cups all-purpose flour
1/2 cup unsweetened cocoa
1 tsp. baking soda
Pinch salt
1 cup semisweet chocolate chips
1 cup shredded sweetened coconut
1 cup chopped pecans
Directions:
1. Preheat the oven to 375 degrees F. Line baking sheets with parchment paper.
2. In a stand mixer, blend the butter, brown sugar, granulated sugar, vanilla, and eggs. In a medium bowl, stir together the flour, cocoa, baking soda, and salt. Gradually add the flour mixture into the butter mixture and blend until combined. Stir in the chocolate chips, coconut, and pecans.
3. Drop the dough by tablespoonfuls onto the prepared baking sheets, 12 cookies per sheet, and bake 8 to 10 minutes. Cool on a baking rack.