You may have noticed from my posts lately that I'm working on shedding a few pounds. It's that time of year when the fear of being in a bathing suit in a few months gets real. We've had a few days here and there of awesome weather in Nashville, so shorts, tank tops and the like are right around the corner. However, even though I'm counting calories, I still manage to work in a splurge. That's where Sunburst Lemon Bars come in. My Spring fever is topping the charts right now, so I couldn't resist making a sweet, lemon dessert. These bars aren't very big, so it was no problem for me to work in one (or two) in my calorie allowance for the day. And hey, it's good motivation to get on the treadmill when doing so let's you eat something like this!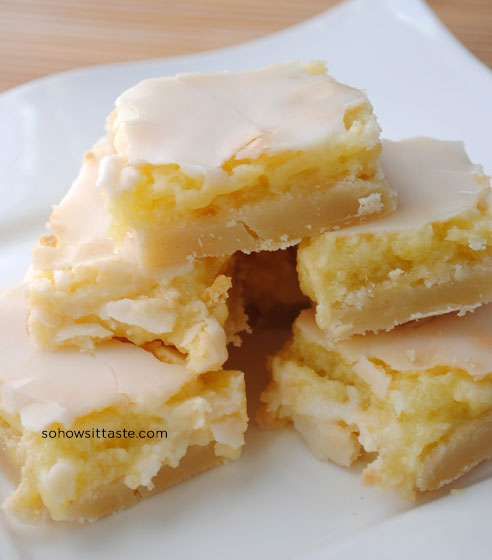 So, how's it taste?
Awesome! My craving for a Spring-like dessert was definitely satisfied. I'd never had a lemon bar with a glaze on the top, but it works. The crust is really simple and almost like a sugar cookie. I added lemon peel to pump up the flavor and it created a lovely, subtle lemon-scented crust. The filling is really light. It's not as thick as other lemon bars. It was super lemony when I first tasted it, but as the bars got older, the lemon slowly faded and the bars became sweeter. They were still really good, but I like my lemon desserts tart! The glaze on top is a very thin layer, but combined with the soft filling and lemony crust, it was heaven. I enjoyed every sweet moment of eating them. The recipe makes 36 bars, but that was hella tiny for me and the math was easier to cut them into 32. It bumped up my calorie count, but you'd be amazed how much more I'm willing to work out knowing it lets me eat another lemon bar!
These bars are stored in the refrigerator, which makes the crust super hard. You'll be tempted to eat one straight from the fridge because let's face it, a super cold lemon bar is right up there with a super cold Coke from a glass bottle. But they taste much better when the crust gets close to room temperature. Also, the bars are quite crumbly, so don't be bothered cutting them with perfect precision. This is what I like to call a rustic look!
Please note: While I had great success and really enjoyed these lemon bars, a few folks have written they made these, but they didn't turn out quite right. It's difficult for me to assist you with "what went wrong" since I'm not in the kitchen with you. Do your best to follow the recipe and learn from your efforts in the kitchen. Comments that are unnecessarily rude are not accepted and for that reason commenting has been disabled for this post. If you wish to comment on the recipe for these lemon bars, do so on the Pillsbury web site where the recipe originated. Thank you.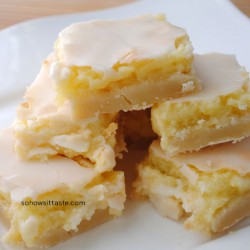 Sunburst Lemon Bars
Ingredients:
Crust
2 cups all-purpose flour
1/2 cup powdered sugar
1 cup butter, softened
1 tsp. grated lemon peel
Filling
4 eggs
2 cups granulated sugar
1/4 cup all-purpose flour
1 tsp. baking powder
1/4 cup fresh lemon juice
1 tsp. grated lemon peel
Glaze
1 cup powdered sugar
2 to 3 tablespoons lemon juice
Note: You'll need about two lemons for the juice/peel in this recipe. If you don't have enough lemon juice left for the glaze, add water until you get the right consistency.
Directions:
1. Heat oven to 350°F. In large bowl with electric mixer, beat flour, sugar, butter, and peel on low speed until crumbly. Press mixture evenly in bottom of ungreased 13x9-inch pan. Bake 20 to 30 minutes or until light golden brown.
2. Meanwhile, in large bowl with wire whisk, lightly beat eggs. Beat in remaining filling ingredients except lemon juice and lemon peel until well blended. Beat in 1/4 cup lemon juice and peel.
3. Remove partially baked base from oven. Pour filling evenly over warm base.
4. Return to oven; bake 25 to 30 minutes longer or until top is light golden brown. Cool completely, about 1 hour.
5. In small bowl, mix 1 cup powdered sugar and enough lemon juice for desired spreading consistency until smooth. Spread glaze over cooled bars. Cut into bars. Store in refrigerator, but allow bars to come to almost room temperature before serving.