Now is this a ginormous chocolate monstrosity or what? I took these pics with my phone, so excuse the quality, although I'm not sure my fancy camera would have done any better with this chocolate blob. I was super excited about this Pumpkin Spice Cake with Chocolate Pecan Filling. It combines the best of three worlds in holiday baking: pumpkin, pecans, and chocolate. Getting it to look as good as the Food Network's version proved to be quite the unachievable feat.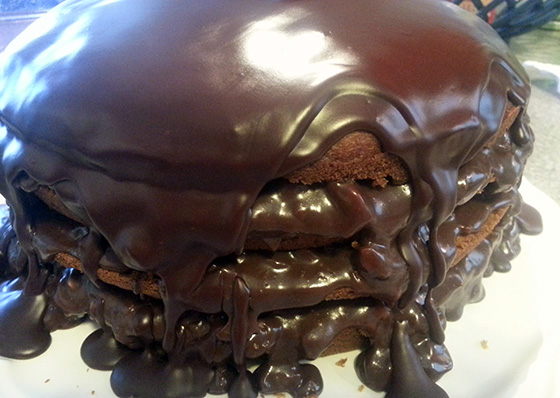 So, how's it taste?
I'm kind of mixed on this one. It was tasty, but I really wish I had used traditional pumpkin pie spices (cinnamon, ginger, nutmeg, cloves) instead of the spices from the original recipe. I've discovered I'm not a fan of cardamom. It tastes like perfume smells and it takes over everything. The first slice of this cake fresh was really good, but the older it got, the stronger the cardamom. That's a real shame because the pumpkin cake with a very faint hint of orange and all that chocolate and pecans would have been magical!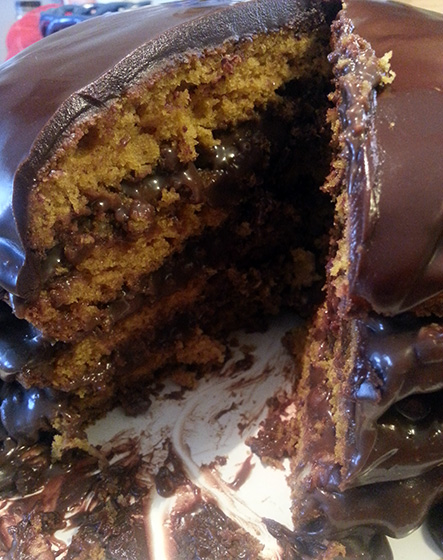 Another strike against this cake is the time it takes to make it. So. Many. Steps. I had plans of making this the night before Thanksgiving, but my normal 45-minute drive to my mom's turned into a 2 1/2 hour drive and I was all kinds of cranky when I finally arrived. I did manage to bake the cakes the night before though. The filling is the problem child. As you can see, mine isn't any where close to being as firm as in the original picture. The filling calls for ONE QUART of heavy cream. I'm not sure if that's a typo or what. Other reviewers complained of this, too. I let that filling cook and cook and cook and it just wouldn't get any thicker. However, it was delicious! The glaze is pretty spectacular, too. Look how thick it is! As if all that oozing chocolate pecan isn't enough, the entire cake gets topped with this ridiculous amount of glaze. This filling and that glaze on a yellow cake and oh em gee!
All in all not a bad cake. Just too many steps, too runny of filling, and too much cardamom. I like the concept though and it could easily be modified for one stellar four layer cake.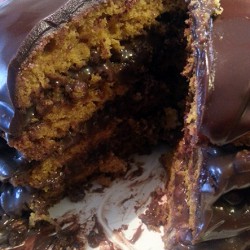 Pumpkin Spice Cake with Chocolate Pecan Filling
Ingredients:
Cake
Unsalted butter, for the pans
3 cups all-purpose flour
2 tsp. baking soda
2 tsp. baking powder
1 tsp. ground cinnamon
1/2 tsp. ground ginger
1/2 tsp. ground cardamom
1/4 tsp. ground allspice
1/4 tsp. salt
1 15 oz. can pure pumpkin
1 1/2 cups sugar
2 tsp. grated orange zest
1 tsp. vanilla extract
4 large eggs, at room temperature
1 1/4 cups vegetable oil
Filling
1 cup sugar
1 quart heavy cream
1/4 cup dark corn syrup
2 tbsp. cold unsalted butter, cut into small pieces
8 oz. semisweet chocolate, chopped
1 tbsp. vanilla extract
1/8 tsp. salt
2 cups pecans, toasted and chopped
Glaze
6 oz. bittersweet chocolate, chopped
1 tbsp. unsweetened cocoa powder
1 stick unsalted butter, cut into small pieces
2 tsp. honey
Directions:
1. For the cake: Preheat the oven to 350 degrees F. Lightly butter two 9-inch-round cake pans; line the bottoms with parchment paper.
2. Whisk the flour, baking soda, baking powder, cinnamon, ginger, cardamom, allspice and salt in a large bowl; set aside. Combine the pumpkin, sugar, orange zest and vanilla in a stand mixer fitted with the paddle attachment and beat on medium speed until smooth, about 1 minute. Add the eggs, one at a time, beating until each one is incorporated. With the mixer running, add the vegetable oil in a steady stream. Add the flour mixture and mix just until incorporated. Divide the batter between the 2 prepared pans; lightly tap the pans on the counter to distribute the batter.
3. Transfer the pans to the oven and bake until the cakes begin pulling away from the pans and the centers spring back when lightly pressed, about 30 minutes. Transfer to a rack and let cool 10 minutes in the pans, then unmold onto the rack and let cool completely.
4. Meanwhile, make the filling: Combine the sugar and 1/4 cup water in a large deep saucepan over medium-high heat; bring to a simmer and cook, without stirring, until deep amber, about 8 minutes. Carefully whisk in the cream and cook, whisking, until smooth. Add the corn syrup and bring to a boil, then reduce the heat to medium low and cook, whisking occasionally, until the sauce thickens slightly and coats the back of a spoon, 40 to 50 minutes. Remove from the heat; whisk in the butter, chocolate, vanilla and salt until smooth. Let cool completely, then fold in the pecans. Cover and refrigerate until firm but spreadable, about 1 hour.
5. Assemble the cake: Cut each cake in half horizontally with a serrated knife to make 4 layers. Put 1 layer on a platter; spread one-third of the pecan filling on top. Layer the remaining cakes and filling on top, ending with cake. Refrigerate until set, about 1 hour.
6. Make the glaze: Combine the chocolate, cocoa powder, butter and honey in a microwave-safe bowl. Cover with plastic wrap and microwave 1 minute; uncover and whisk until smooth. Let cool to room temperature, then spread on the cake, letting the excess drip down the sides. Refrigerate until the glaze sets, about 10 minutes.