A friend of mine (Hi Brecca!) posted this dessert on her Facebook page not too long ago and I've had it on the brain to make ever since. Our office Thanksgiving potluck was this past Tuesday and I knew this Pumpkin Spice Pudding Dessert would be perfect to bring. It takes no time to make, has simple ingredients, and tastes fantastic. It uses Jell-O's limited edition Pumpkin Spice flavor, but this dessert would work well with any pudding flavor you like.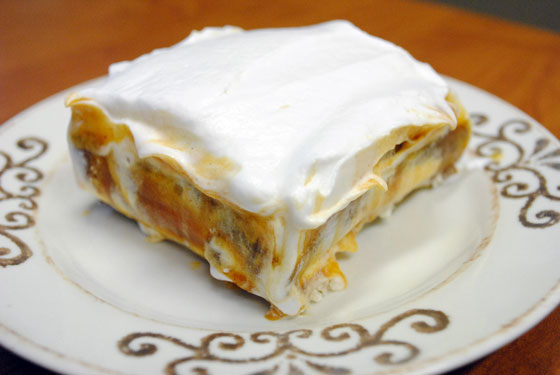 So, how's it taste?
It's so simple, but so delicious! I've made a ton of pudding pies in the past that are similar to this with a cream cheese layer, pudding layer, and Cool Whip. What makes this dessert special is the thin crust. It's almost like a pecan cookie on the bottom. The pumpkin spice pudding on its own is really spicy, so the cream cheese layer and Cool Whip layer help to tone that down. The cream cheese layer is spectacular. It seems like a heavy dessert, but it's really light and not too rich. Great for Thanksgiving dessert after stuffing your face!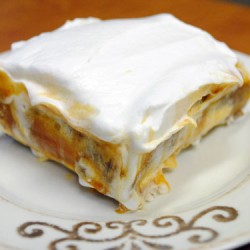 Pumpkin Spice Pudding Dessert
Ingredients:
1/2 cup butter, melted
1 cup flour
1 cup chopped pecans
2 tbsp. sugar
8 oz. cream cheese, softened
1 cup powdered sugar
16 oz. Cool Whip
2 small packages (3.4 oz. each) of Jell-O Instant Pumpkin Spice Pudding (or your favorite flavor)
3 cup cold milk
Directions:
1. Preheat oven to 375°F. Grease bottom and sides of a 9x13-inch baking dish. Combine butter, flour, pecans, and sugar and press evenly into baking dish. Bake for 8-10 minutes or until crust is set. It won't be golden. Cool completely on wire rack.
2. Beat cream cheese, powdered sugar, and 1 1/2 cups Cool Whip until smooth. Spread evenly over cooled crust.
3. Mix pudding with cold milk, whisking for two minutes. Let thicken in fridge for 5-10 minutes. Spread evenly over cream cheese layer. Top with remaining Cool Whip. To serve, cut into squares. Store in refrigerator.