I hope everyone had a wonderful Christmas filled with joy and time spent with family and friends! This is the last cookie from cooking baking day, Banana Walnut Chocolate Chunk Cookies! It sounds like a merging of two favorites…banana bread and chocolate chip cookies! There's a muffin mix that is really hard to find (or not made anymore) from Martha White. It's banana chocolate chip muffins. Yes, it's a mix and it's fantastic. The banana makes them super moist and adds another dimension to plain ol' chocolate chip. I was hoping these cookies would be similar.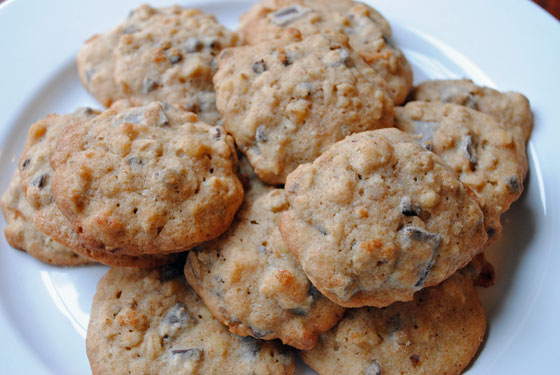 So, how's it taste?
Well, they were good, but not what I had hoped. I still love the combination of chocolate and banana, but these cookies were almost too moist. They were very soft and a tad bit fragile. The oats and whole wheat flour made the texture odd. I think the oats are in the recipe to hold the cookie together because they spread big time. They were reminiscent of banana bread with chocolate, but I think the recipe needs revamping to make a really stellar cookie. Maybe I can call Martha White and beg them to start making that mix again and I'll turn that into a cookie!
Other goodies from Cookie Baking Day 2011:
Cream Cheese Spritz Cookies
Orange Pecan Gems
Iced Lemon Pistachio Cookies
Cranberry White Chip Oatmeal Cookies
Chocolate Malt Cookies
Triple Chocolate Oreo Chunk Cookies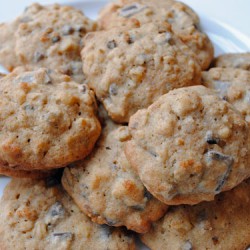 Banana Walnut Chocolate Chunk Cookies
Ingredients:
1 cup all-purpose flour
1/2 cup whole-wheat flour
1 tsp. coarse salt
1/2 tsp. baking soda
3/4 cup (1 1/2 sticks) unsalted butter, softened
1/2 cup granulated sugar
1/2 cup packed light-brown sugar
1 large egg
1 1/2 tsp. pure vanilla extract
1/2 cup mashed ripe banana (about 1 large)
1 cup old-fashioned rolled oats
8 oz. semisweet chocolate chunks
1/2 cup coarsely chopped walnuts, toasted
Directions:
1. Preheat oven to 375 degrees. Whisk together flours, salt, and baking soda in a small bowl; set aside. Put butter and sugars into the bowl of an electric mixer fitted with the paddle attachment; mix on medium speed until pale and fluffy. Reduce speed to low. Add egg and vanilla; mix until combined. Mix in banana. Add flour mixture; mix until just combined. Stir in oats, chocolate chunks, and walnuts.
2. Using a 1 1/2-inch ice cream scoop, drop dough onto baking sheets lined with parchment paper, spacing about 2 inches apart. Bake cookies, rotating sheets halfway through, until golden brown and just set, 12 to 13 minutes. Let cool on sheets on wire racks 5 minutes. Transfer cookies to wire racks; let cool completely. Cookies can be stored in airtight containers up to 2 days.