I think it's safe to say that I've officially become a food blogger. How do I know this? Because I made a treat for you and I'm showing it to you BEFORE the holiday. What?! Don't get too used to it though. I'm certainly not going to make a Thanksgiving spread before November 28. That's what archives are for, right? Let's get back to Halloween! I've had this recipe clipped out of a magazine for a few years and finally it was time to make these bad boys. I think they are so fun for Halloween and it was easy to make two different looks with one batch of cupcakes. Broken Glass & Vampire Bite Cupcakes are sure to be a hit at your next Halloween shindig.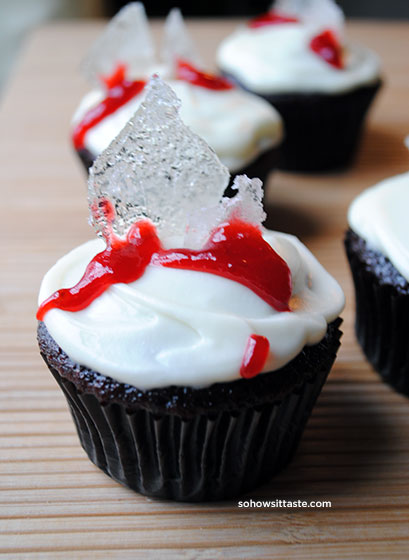 So, how's it taste?
Well, it's delicious of course since you use your favorite chocolate cupcake base and cream cheese frosting. You could really do any flavor base and white frosting. This recipe comes from Martha Stewart Living and hers have a spice cake base. I used chocolate because I wanted something dark and sinister! Red velvet would look nice and bloody, too. Tee hee! Since I wasn't piping the frosting, I also made half of the icing recipe and had plenty left over.
It took me two tries to get the broken glass right. I'm not going to lie, it was a ginormous pain and so frustrating. Martha's directions are hugely lacking, but thankfully I'd made caramel before and adjusted it for the second batch. "Oh just cook the mixture until it's golden around the edges." Yeah, no. You have to boil that biz until it hits soft crack stage. Otherwise you get a tray of sugar gel that oozes around your pan and is never going to look like glass. So take your negative blogger comments and shove it, Martha. The second try was a winner except I had one hell of a time getting it out of my pan. That's why my glass isn't as clear and perfect as I would have liked. I think spraying the pan or using a liner would help next time.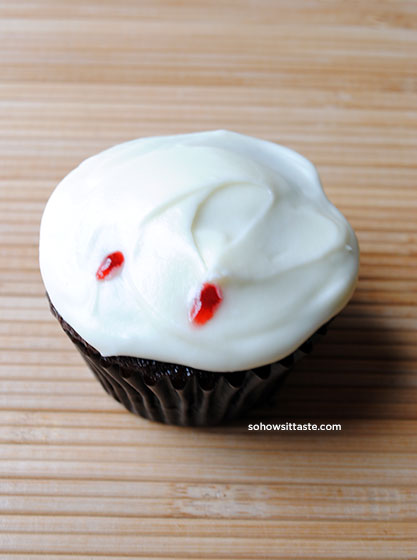 Now you see where the Vampire Bite Cupcakes come in. I didn't have enough good-looking glass (and was tired of chiseling it out of my pan), so for half of the cupcakes I did the vampire bite decoration. It's super simple. Make two holes in the icing with a toothpick and dab in some red jelly (I used strawberry). Ta da! Easy!
I hope you all have a Happy Halloween! Anyone have their costume picked out yet?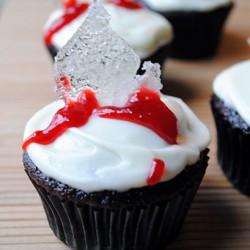 Broken Glass & Vampire Bite Cupcakes
Ingredients:
Cupcakes
1 recipe for your favorite cupcake (I used chocolate)
Caramel Glass
1 1/2 cups granulated sugar
3/4 cup water
Frosting (I only made half this recipe)
1 lb. cream cheese, room temperature
2 sticks unsalted butter, room temperature
6 cups powdered sugar
1/2 tsp. pure vanilla extract
Garnish
red jelly (cherry, strawberry, raspberry, etc.)
red food coloring, optional if you want a darker red
Directions:
1. Bake your cupcakes according to your favorite recipe directions. Cool completely before frosting.
2. For the broken glass, bring granulated sugar and water to a boil in a small high-sided saucepan, stirring, until sugar dissolves. Reduce heat to medium-high, and cook until mixture reaches the soft crack stage on a candy thermometer (about 270-290F). Remove from heat, and immediately pour caramel onto a rimmed baking sheet. Working quickly, tilt pan to spread caramel to edges to make a very thin layer. Let cool to harden.
3. For the frosting, beat cream cheese and butter with a mixer on medium-high speed until pale and fluffy. Gradually add powdered sugar and vanilla. Beat until creamy and spreadable.
4. Frost each cupcake using an offset spatula. Twist pan to release and break caramel in order for it to resemble broken glass. Place a shard or 2 in the center of each cupcake. Drizzle or pipe the jelly where caramel has entered the cupcake. For the vampire bites, make two holes in the frosting with a toothpick. Dab a bit of the jelly in each hole. Serve immediately. If not serving immediately, wait to add the glass and jelly or they will start to melt on the frosting.