Apple pie. What's more classic than apple pie? Funny thing is I usually gravitate away from apple desserts…unless it's apple pie. I love the stuff! It's so simple and so decadent. This Easy Skillet Apple Pie is no exception from that description. It seriously is easy, aside from peeling and slicing apples. It's crazy decadent, too. Plus I like the added touch of baking it in a cast iron skillet.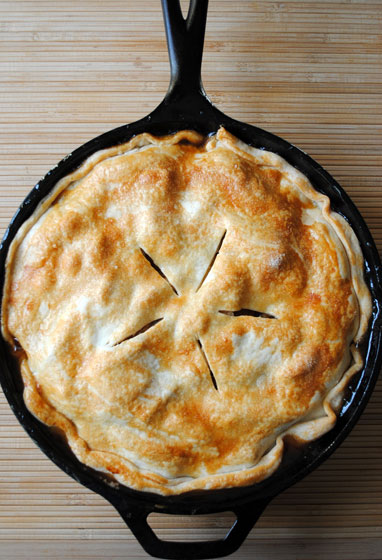 So, how's it taste?
It's pretty amazing. I had a feeling it would be since under the pie crust is an entire stick of butter and 3/4 cup of brown sugar! As it bakes, a little of that goodness oozes out over the sides. I totally didn't mind because I actually planned for this and put a baking pan underneath to catch the drippings and also because it made it feel like I was baking something completely sinful. If you want to make your own crust, go right ahead. I happen to really like store-bought crust and really hate making my own pie crust, so making this pie was a cinch. The most time-consuming part is peeling and slicing the apples, but it's well worth the effort. The recipe calls for half Granny Smith and half Braeburn. I've made several pies using Granny Smith and liked them, but the ones I bought were a little too tart this time. The Braeburn apples have a slight hint of tart, but not too much, so I wish I had used all Braeburn. Both held up really well to baking and didn't turn to mush. The simplicity of the cinnamon and sugar over the apple slices balanced well with the thick layer of brown sugar and butter underneath. It did make the bottom crust slightly soggy, but not in a bad way. Plus the top crust and sides make up for it. After I took out the first slice, I spooned the juice over the top!
I will warn you that if you take a slice or two out and refrigerate the leftovers, you'll see a gross film of hardened butter on the top of the sauce. Yeah, it's not figure-friendly folks! Just skim that off and discard it or heat it up and forget you ever saw it. This pie is definitely a scene-stealer when served in the cast iron skillet. Bookmark this recipe for your upcoming holiday feasts!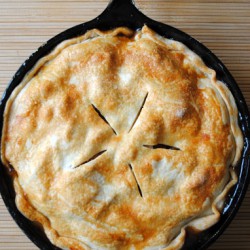 Easy Skillet Apple Pie
Ingredients:
2 lbs. Granny Smith apples
2 lbs. Braeburn apples
1 tsp. ground cinnamon
3/4 cup granulated sugar
1/2 cup butter
1 cup firmly packed light brown sugar
1 (14.1 oz.) package refrigerated piecrusts
1 egg white
2 tbsp. granulated sugar
Directions:
1. Preheat oven to 350F. Peel apples, and cut into 1/2-inch-thick wedges. Toss apples with cinnamon and 3/4 cup granulated sugar.
2. Melt butter in a 10-inch cast-iron skillet over medium heat; add brown sugar, and cook, stirring constantly, 1 to 2 minutes or until sugar is dissolved. Remove from heat, and place 1 piecrust in skillet over brown sugar mixture. Spoon apple mixture over piecrust, and top with remaining piecrust. Whisk egg white until foamy. Brush top of piecrust with egg white; sprinkle with 2 tablespoons granulated sugar. Cut 4 or 5 slits in top for steam to escape.
3. Bake at 350F for 1 hour to 1 hour and 10 minutes or until golden brown and bubbly, shielding with aluminum foil during last 10 minutes to prevent excessive browning, if necessary. You'll want to place a pan underneath the skillet in case the sugar mixture spills over. Cool on a wire rack 30 minutes before serving.