Merry Merry Christmas! I hope you're all having a wonderful day celebrating with family and friends. These Holiday Pantry Cookies are the last from Cookie Baking Day 2015. The name is very fitting because the flavors in this cookie are what you'd find in your pantry around the holidays. Pistachios, cranberries, coconut, and white chocolate. It's no surprise why they were a favorite this year!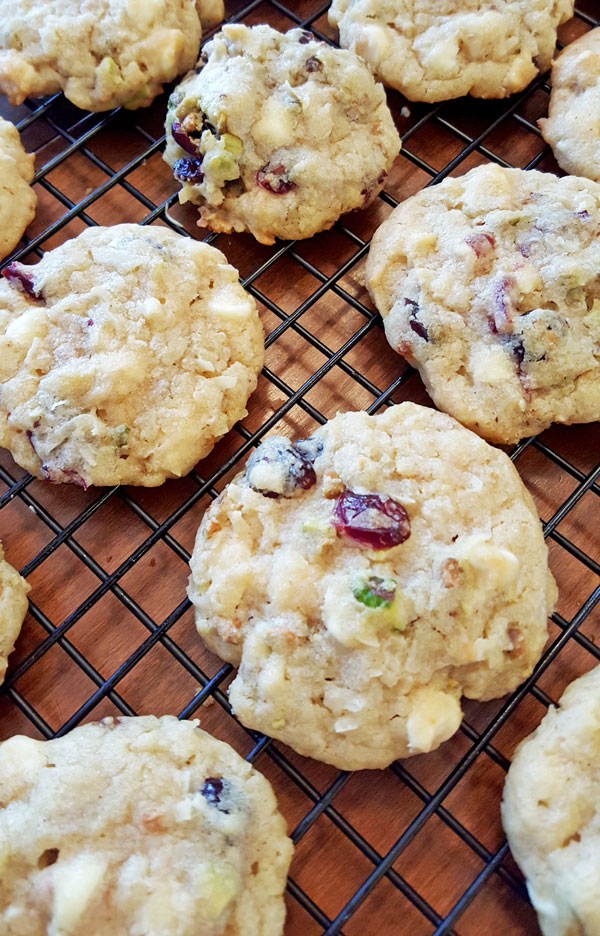 So, how's it taste?
Loved them! I ranked this only second to my top favorite (Mint Chocolate Chip Cookies) and they ranked as #1 at my work. They are perfect for Christmas. I love the hint of green from the pistachios and the red from the cranberries. The coconut and white chocolate bring a touch of sweetness. The only thing I'd change about them is next time I want to add just a touch of orange zest to brighten them. The flavor profile is very similar to my Holiday Layer Bars, and that little bit of orange is a game changer. Can't wait to make these again!
Other goodies from Cookie Baking Day 2015:
Cream Cheese Spritz Cookies
Mint Chocolate Chip Cookies
Pumpkin Pecan Spice Cookies
Cake Batter Chocolate Chip Cookies
Reese's Pieces Chocolate Cookies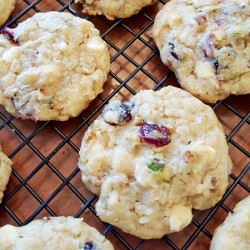 Holiday Pantry Cookies
Ingredients:
2 1/2 cups all-purpose flour
1 tsp. baking powder
1/4 tsp. salt
1/4 tsp. cinnamon
1 cup unsalted butter, softened
1 cup granulated sugar
1 cup firmly packed light brown sugar
2 large eggs
1 tbsp. vanilla extract
1 (11 oz.) bag white chocolate morsels
1 1/2 cups sweetened flaked coconut
1 cup roasted salted pistachios, chopped
1 cup dried cranberries
Directions:
1. In a medium bowl, whisk together flour, baking powder, salt, and cinnamon; set aside.
2. In a separate medium bowl, beat butter, granulated sugar, and brown sugar with a mixer at medium-high speed until fluffy, about 4 minutes.
3. Add eggs, one at a time, beating well after each addition. Add vanilla and beat to combine. Reduce mixer speed to low; gradually add flour mixture, beating well after each addition.
4. Fold in white chocolate morsels, coconut, pistachios, and cranberries. Remove dough from bowl and wrap tightly in plastic wrap. Refrigerate for at least 2 hours or up to 3 days.
5. Preheat oven to 350F. Line baking sheets with parchment paper. Drop dough by tablespoonfuls, 2 inches apart onto prepared pan.
6. Bake until light golden brown around the edges, 10 to 12 minutes. Let cool on pan for 8 to 10 minutes. Remove from pan and let cool completely on wire rack. Store in an airtight container at room temperature for up to 5 days.
Source: Christmas Celebrations magazine, November/December 2015