First, let me profusely apologize for the picture. My pictures aren't ever stellar anyway, but this one "takes the cake" (tee hee!) as being just plain awful. I forgot to charge my nice camera's battery and it was uber o'clock in the morning while I was trying to scurry out the door for work. So I grabbed my cell phone and snapped away. I made this Chocolate Peanut Butter Cake for my boss's birthday a few weeks ago. I was trying to top the Tunnel of Fudge cake from another coworker's birthday, and let me tell you that was no easy feat.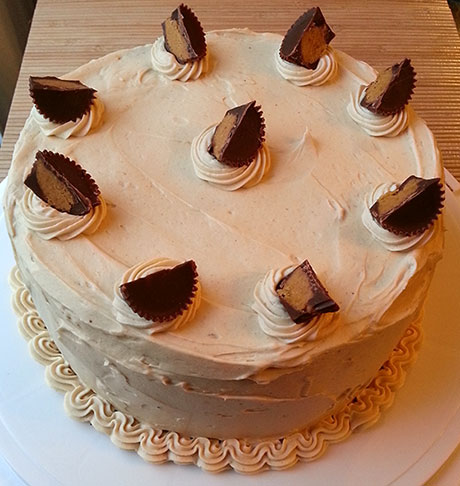 So, how's it taste?
When I opened the cake dome lid, it was peanut butter chocolate heaven. The aroma was intoxicating. The peanut butter frosting/filling is spot on. It's amazing. It's really fluffy, so much so that I almost want to call it a mousse. It wasn't too peanut buttery, wasn't too sweet, it was perfect. I will definitely make it again for other sweet treats.
The cake tasted really good and chocolately, but I think it's all wrong for the frosting. I also had a problem with them sinking, which going back to the source I see a lot of comments that had that same issue, and mine were not underbaked. The cake is pretty dense and since it has to be stored in the fridge, it was really hard to cut a slice. The dense cake kind of squished the frosting everywhere. It got better at room temperature, but then the frosting was too greasy at room temperature, so they just don't match. I was surprised at how the cake turned out because they seemed to be really moist when I took them out of the pans. Don't get me wrong, the cake tasted awesome (hello PB and chocolate!), but I'd like to see this frosting with a lighter cake. I think it would work fantastically with the Hershey's chocolate cake recipe (see my Blackberry Chocolate Cupcakes).
I also wish I had used more of the frosting/filling. I felt like I was adding too much in between the layers, but I really could have used all of it. I ended up not using about 1 1/2 cups and that was a mistake. Don't be shy when filling between the layers! This frosting is also really easy to pipe and spread. Although you'll never get it perfectly smooth, but it kind of adds to the look with the mousse-like texture. I think I'd like to make chocolate cupcakes and use this frosting. Don't be surprised if you see that concoction soon on the blog!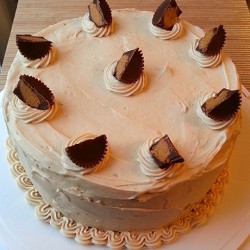 Chocolate Peanut Butter Cake
Ingredients:
Cake
1 1/2 cups unsweetened cocoa powder, plus more for dusting the pans
1 tbsp. instant espresso or coffee powder
1 1/2 cups boiling water
3/4 cup sour cream
1 tbsp. vanilla extract
1 1/2 cups (3 sticks) unsalted butter, room temperature
2 1/2 cups plus 2 tbsp. sugar
3 large eggs, room temperature
1 3/4 cups plus 2 tbsp. all-purpose flour
1 1/4 tsp. baking soda
3/4 tsp. salt
Filling and Frosting
3/4 cup heavy cream, chilled
3 1/4 cups confectioners' sugar, sifted, divided
1 1/2 cups (3 sticks) unsalted butter, room temperature
1 cup creamy peanut butter
1 tbsp. vanilla extract
Pinch of coarse salt
Garnish
Mini peanut butter cups, halved
Directions:
1. For the cake, preheat oven to 350F. Butter edges of three 8-inch round cake pans and dust with cocoa powder. Shake the pans to remove excess. Line the bottoms of the pans with parchment paper. In a medium bowl, add cocoa powder, espresso powder, and boiling water. Whisk until smooth and set aside to cool. After cooling a bit, whisk in sour cream and vanilla. Set mixture aside. Using an electric mixer, beat the butter on medium-high speed until smooth, about 1 minute. Gradually add sugar and whip on medium-high speed until light and fluffy, about 2 to 3 minutes more. Add eggs one at a time. In another medium bowl, mix flour, baking soda, and salt with a whisk until blended.
2. With mixer on low speed, add flour mixture in three additions alternating with sour cream mixture. Mix each addition just until incorporated. Divide the batter evenly between pans. Bake about 30-32 minutes or until a toothpick inserted in the center comes out clean, rotating the pans during halfway through to ensure even baking. Transfer the cake to wire racks and cool in the pans at least 30 minutes. Next invert cake onto the racks to cool completely.
3. To make the filling and frosting, combine the heavy cream and 1/4 cup of the confectioners' sugar in a clean bowl of an electric mixer fitted with the whisk attachment. Whip on medium-high speed until stiff peaks form, being careful not to over mix. Transfer a separate bowl; set aside. In mixer bowl, now fitted with the paddle attachment, mix butter and peanut butter. Beat on medium-high speed until smooth, about 45 seconds. Add the rest of the confectioners' sugar and mix, slowly at first until incorporated, then increasing the mixer speed to high. Add vanilla extract and salt. Continue to whip on high speed until very fluffy, about 4-5 minutes, scraping down the sides of the bowl as needed. Using a large spatula, gently fold whipped cream into peanut butter frosting until no streaks remain.
4. Assemble the cake, placing one cake layer on a serving platter. Spread a layer of the frosting over the top of the cake. Top with a second cake and another layer of frosting. Place the last cake on top. Frost the top and sides using a thin crumb coat. Place in the freezer or fridge for 30 minutes to set. Reserve about 1 cup of the remaining frosting in a pastry bag fitted with a decorative tip (Wilton #21 recommended). Once the crumb cake is set, frost the top and sides of the cake again using an offset spatula. Using the reserved frosting, pipe a border around the base of the cake. Pipe swirls evenly around the top border of the cake and one in the middle. Finish by garnishing with halved peanut butter cups. (Freezing the candy for a bit beforehand helps them stay looking nice while you cut them.) Refrigerate the cake until ready to serve.