You may have noticed I'm a big fan, make that huge fan, of Goo Goo Clusters. Nashville's very own chocolate confection that's been around for 100 years. Last month, Goo Goo celebrated its birthday around Nashville in style. Several restaurants paid tribute to the candy bar by creating their own dessert. While I didn't get to taste every dessert, I did have a FRIED Goo Goo thanks to Puckett's. Mark that off the bucket list!
Being a fan, I thought I'd do a little celebrating myself and for those of you that don't live in Nashville, this is a dessert you can make at home and wish Goo Goo a happy 100th! I present the Ultimate Goo Goo Cluster Sundae! Chocolate chip cookie dough Goo Goo brownies on the bottom, scoops of Publix brand Peanut Goo Goo ice cream, hot fudge, caramel, whipped cream, and a cherry on top! Let the sugar coma begin!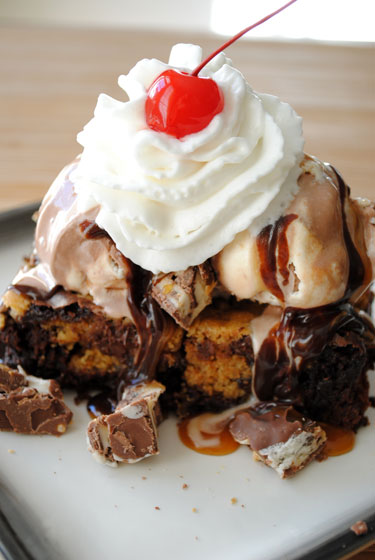 So, how's it taste?
You don't even have to ask. It's insane. It's one of those over-the-top desserts that you can't resist. It starts with a recipe I've made before for chocolate chip cookie dough brownies. That's pretty perfect itself because you don't have to choose between a brownie and a cookie. I took it to another level by adding a layer of chopped Goo Goos turning it into a more chocolatey, sticky, gooey peanut version. Publix has Peanut Butter Goo Goo ice cream, which of course you can choose any ice cream flavor you like or make your own. The Publix version is peanut butter and chocolate ice creams with caramel swirls and chocolate covered peanuts.  A scoop or two of that over the brownies and whoa! But I didn't stop there.
This is a celebration! It had to be decadent. Hot fudge sauce and hot caramel flowing over the ice cream and then I decided it need a few more chopped Goo Goos sprinkled on top. Finished with whipped cream and a bright red cherry. Brace yourself and put on some stretchy pants. 😉
Happy 100th Goo Goo Cluster!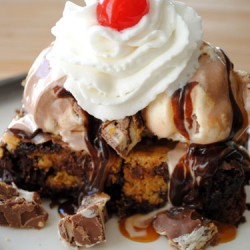 Ultimate Goo Goo Cluster Sundae
Brownies adapted from Betty Crocker
Sundae by So, How's It Taste?
makes 24 brownie squares
Ingredients:
Brownies
1 box Betty Crocker Original Supreme brownie mix (with chocolate syrup pouch)
1/3 cup vegetable oil
1/4 cup water
2 eggs
1 pouch (1 lb 1.5 oz) Betty Crocker chocolate chip cookie mix
1/2 cup butter or margarine, softened
1 egg
5 Goo Goo Clusters, chopped
Sundae
your favorite ice cream (I used Publix Peanut Butter Goo Goo ice cream)
Goo Goo Clusters, chopped
hot fudge topping
caramel topping
whipped cream
maraschino cherries
Directions:
1. Heat oven to 350F. Grease bottom only of 13x9 pan. Make brownie mix as directed on box, using oil, water and 2 eggs. Spread in pan.
2. Sprinkle chopped Goo Goos evenly over brownie batter.
3. Make cookie mix as directed on pouch, using butter and 1 egg. Drop dough by rounded tablespoonfuls evenly onto brownie batter; press down lightly.
4. Bake 35 to 40 minutes or until toothpick inserted 2 inches from side of pan comes out almost clean. Cool on cooling rack 30 minutes. Cut into squares.
5. Top squares with a scoop of your favorite ice cream, hot fudge topping, caramel topping, more chopped Goo Goos, whipped cream, and a cherry.