Brace yourself, there's chocolate ahead. Fudgy brownie, creamy chocolate mousse, and decadent ganache all wrapped into one dessert, the Chocolate Mousse Torte. Let me tempt you even more. Between the layers are crunchy pecans and toffee bits. Your sweet tooth is going into overdrive with this one.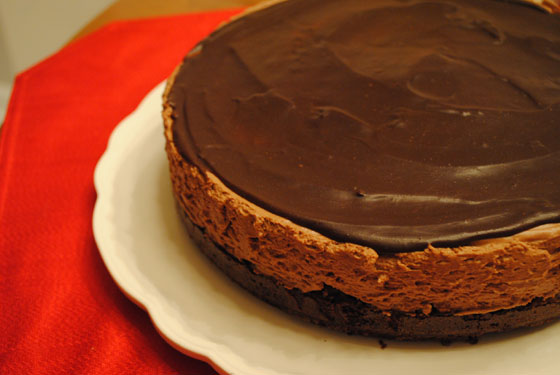 So, how's it taste?
Chocolate, chocolate, chocolate. This is a great dessert for the chocoholic. Easy to create, just time consuming with all the cooling that's needed. The first layer is simple with a brownie mix. I'd leave out the additional bag of chocolate chunks in this layer as it made it extremely difficult to cut and they were just too much. On top of the brownie, pecans and toffee bits are added. They got lost with all those chocolate chunks, so another reason to leave them out of the brownie batter. It definitely isn't lacking on chocolate if you choose not use them. The recipe calls for 1/4 cup of toffee bits, but next time I'll bump mine up to 1/2 cup. I really wanted to taste the toffee more. The next layer is delicious sweetened cream cheese made velvety smooth with you guessed it, chocolate. Add homemade whipped cream to lighten it into a fantastic mousse. Once the mousse is set, slather on a thin layer of chocolate ganache. Oh. My. Word. It's just sinful. I can't wait to make this again with my adjustments. The light mousse layer would pair much better with a less chunky brownie layer. But wow, the chocolate. You could even get fancy and sift powdered sugar over the top with a stencil. My recipe book used a snowflake pattern that was really cute for the holidays. Me? I don't have that kind of patience. Just get me to the chocolate!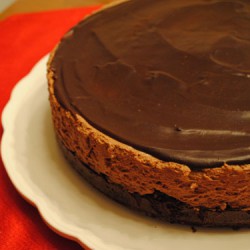 Chocolate Mousse Torte
Ingredients:
1 pouch (10.25 oz.) fudge brownie mix
1/4 cup vegetable oil
1/4 cup water
1 egg
2 bags (11.5 oz. each) semisweet chocolate chunks (3 1/2 cups) - I recommend using only 1 bag
1/2 cup chopped pecans
1/4 cup toffee bits - I suggest using 1/2 cup
1 package (8 oz.) cream cheese, softened
1/2 cup powdered sugar
1 tsp. vanilla
1 pint (2 cups) whipping cream
Directions:
1. Heat oven to 350°F. Grease bottom only of 9-inch springform pan with shortening or cooking spray. In medium bowl, stir brownie mix, oil, water and egg until smooth. Stir in 1 bag of the chocolate chunks. (I'd leave the chunks out of the brownie batter.) Pour batter into pan; spread evenly. Sprinkle pecans and toffee bits over batter; press in lightly.
2. Bake 27 to 32 minutes or until center is set. Cool completely on wire rack, about 1 hour 30 minutes. Run sharp knife around side of pan to loosen brownie layer.
3. In small microwavable bowl, microwave 1 cup of the remaining chocolate chunks uncovered on High 1 minute; stir until smooth. In medium bowl, beat cream cheese, 1/2 cup powdered sugar and the vanilla with electric mixer on medium speed until smooth. Beat melted chocolate into cream cheese mixture.
4. Reserve 1/4 cup of the whipping cream. In chilled large bowl, beat remaining whipping cream on high speed until stiff peaks form. Fold chocolate-cream cheese mixture into whipped cream until no white streaks remain. Spoon mousse over brownie layer, smoothing top. Refrigerate about 2 hours or until mousse is set.
5. In small microwavable bowl, microwave remaining 1/2 cup chocolate chunks uncovered on High 1 minute; stir until smooth. Stir in reserved 1/4 cup whipping cream until smooth. Run thin, flexible spatula around side of pan to loosen torte; remove side of pan. Spoon warm chocolate mixture over top of mousse, allowing some to drizzle down sides. Smooth top of torte with thin, flexible spatula. Refrigerate 30 minutes or until serving.