New to Cookie Baking Day were these Tropical Chewies. We usually bake only two of the same type of cookies from year to year, so it's always fun to have something new on the menu. These cookies are full of goodies: white chocolate chips, almonds, macadamia nuts, and coconut. If you're a white chocolate macadamia cookie fan, you'll love these!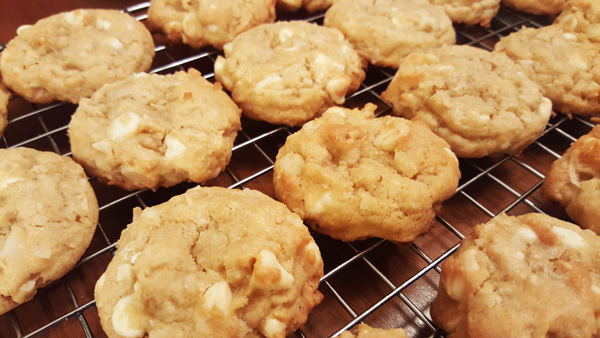 As much as I liked these cookies, they were my least favorite from the entire day. Although in my book, it's always going to be hard to top Mint Chocolate Chip Cookies. I think I would enjoy these more if there was less stuff. The chips, two kinds of nuts, and coconut was a bit overboard for me. I needed more cookie base. However, I did like the combination of everything, and next time I would lessen the amounts. Not a bad problem to have to make more cookies in the name of research!
Other goodies from Cookie Baking Day 2017:
Cream Cheese Spritz Cookies
Mint Chocolate Chip Cookies
M&M's Cookies
Classic Peanut Butter Cookies
Pumpkin Snickerdoodles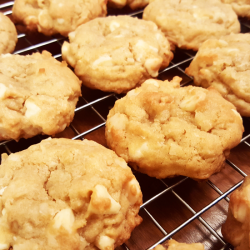 Tropical Chewies
Ingredients:
3/4 cup butter
3/4 cup dark brown sugar
3/4 cup granulated sugar
1 tsp vanilla
2 eggs
2 1/2 cups flour
3/4 tsp baking soda
1 tsp salt
2 cups white chocolate chips
1 cup chopped macadamia nuts
1/2 cup chopped almonds
3/4 cup shredded coconut
Directions:
1. In a stand mixer, beat butter, dark brown sugar, and granulated sugar until fluffy; beat in vanilla and eggs.
2. In a large bowl, whisk flour, baking soda, and salt; stir into the butter mixture. Add white chocolate chips, macadamia nuts, almonds, and coconut; chill 30 minutes.
3. Roll into balls and bake 8 to 12 minutes at 350 degrees.