Biscotti is such a great gift and incredibly easy to make. This was another gift for my mom on her birthday along with these marshmallows. If you're not familiar with biscotti, it's like a cookie but very hard (like break a tooth hard). To eat it, it's dipped in hot cocoa or coffee. It's a decadent treat for breakfast or when you feel like indulging. While store-bought biscotti is pretty delicious, this homemade version is even better. After seeing how easy it was to bake Chocolate Almond Biscotti, I'll be making my own from now on.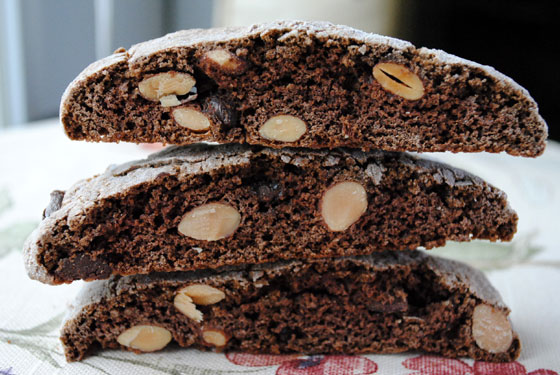 So, how's it taste?
Crunchy, chocolatey perfection. I almost decided to keep them for myself! I'm a big chocoholic so I really enjoyed the chocolate and the chocolate chips. The almonds I used were dry roasted and lightly salted with sea salt. The combination of sweet and salty was to die for. I would have liked a tad bit more of chocolate chips, but that's my personal taste. I thought it was odd to use whole almonds, but I see how once you cut the biscotti, the presentation of the almonds is beautiful. It looked like something you'd buy in the store, but without the strange preservatives. Biscotti keeps for almost a week stored in an air-tight container. Or keep them in the freezer to enjoy them even longer.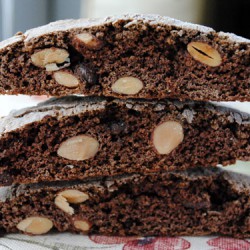 Chocolate Almond Biscotti
Ingredients:
2 cups flour
1 cup sugar
1/3 cup cocoa powder
1 tsp. baking soda
1/4 tsp. salt
2 eggs
2 egg whites
3/4 tsp. vanilla extract
2/3 cup whole almonds, toasted
1/3 cup chocolate chips
Directions:
1. In a standing mixer with a paddle attachment combine flour, sugar, cocoa powder, baking soda, and salt. Mix together eggs, egg whites, and vanilla extract. Gradually add egg mixture to flour mixture blending on low. Toss almonds with chocolate chips then add to flour mixture and blend just until combined.
2. On a well floured surface roll dough into 2 logs, 2 inches in diameter. Place on a greased sheet pan and brush with beaten egg. Bake at 350 degrees until light golden brown, about 30-35 minutes. Allow logs to cool 15 minutes then cut into slices on the bias. Place slices on a greased sheet pan and bake in a 350 degree oven until toasted, about 15-20 minutes. Cool. Store in an airtight container.