Still posting from Cookie Baking Day, so bear with me! How fantastic are White Chip Cran-Pistachio Cookies for the holidays! Green, red, and white all in one cookie! That is exactly why they made the list for cookie baking day 2014. I just can't resist getting all matchy-matchy festive this time of year. This cookie is filled with pistachio flavor, a slight tang from dried cranberries, and a touch of sweet from the white chip morsels. Pistachio lovers rejoice!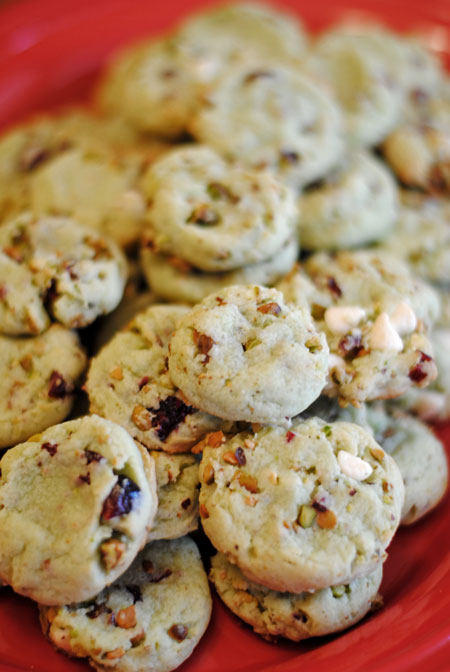 So, how's it taste?
These were the favorites this year at my mom's work, but I hate to admit they were my least favorite. I dig pistachios, but I screwed up the recipe and put too much in, so I think that's why I didn't like them as much. Too many nuts and not enough cookie base…totally my fault! You know when a recipe says "1 cup pistachios, chopped" that it means to measure a cup of pistachios then chop them. I did the opposite and put in "1 cup chopped pistachios," which is way more pistachios. Got myself on a technicality! I think if I had made these the proper way, I would've loved them, so don't let my mistake deter you from making these goodies. Recipe lesson learned!
Other goodies from Cookie Baking Day 2014:
Chocolate-Covered Cherry Cookies
Mocha Toffee Chocolate Cookies
M&M Cookies
Glazed Hermit Cookies
Cream Cheese Spritz Cookies
Mint Chocolate Chip Cookies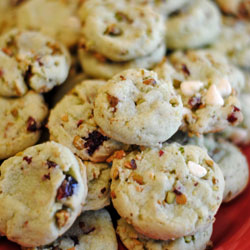 Yield: about 4 dozen
Total Time: 60 min
White Chip Cran-Pistachio Cookies
Ingredients:
1 pouch (1 lb. 1.5 oz.) Betty Crocker™ sugar cookie mix
1 box (4-serving) pistachio instant pudding and pie filling mix
1/4 cup all-purpose flour
1/2 cup butter, melted
2 eggs
1 cup dry-roasted salted pistachio nuts, chopped
1/2 cup dried cranberries, chopped
1/2 cup white chip morsels
Directions:
1. Heat oven to 350F. Line cookie sheet with parchment paper; set aside. In large bowl, stir together cookie mix, pudding mix, and flour. Stir in melted butter and eggs until soft dough forms. Add pistachios, cranberries, and white chips; mix well.
2. Using small cookie scoop or teaspoon, drop dough 2 inches apart on lined cookie sheet. Press with fingers to slightly flatten.
3. Bake 9 to 11 minutes or until edges are light golden brown. Cool 2 minutes; remove from cookie sheet to wire rack. Cool completely. Store tightly covered at room temperature.