I know the song is "Sweet Caroline," but I couldn't help but sing "Sweet Madeleine" when I was making these Vanilla Madeleines. Yes, I get silly in the kitchen. iPod cranked, there may be dance moves involved and a big spoon that doubles as a microphone. My kitchen is a fun place! I'd never made these little cakes before, but Martha had her madeleine pan on sale, so my mom and I snatched them up and I baked some that very weekend.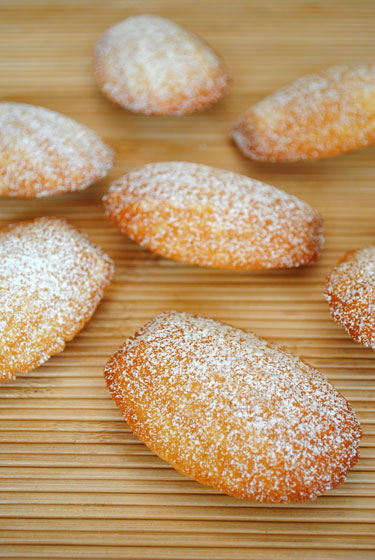 So, how's it taste?
Oh they were heavenly. Not only had I never baked a madeleine before, I had never eaten one. I was under the impression that they were cookies and boy was I surprised when they turned out to be these precious little cakes! I'm usually not a fan of vanilla cake, especially one with no frosting. Let me tell you a madeleine is special. They're light and sweet and that dusting of confectioners' sugar on top is perfect. I could not stop eating them! That's the danger of little cakes…I kept rationalizing that since they were small I could have another and another and another.
Baking these were quite fun, but you do have to have some patience. The dough needs to chill for at least two hours so it can become thick enough to pipe into the molds. You could spoon the batter into the molds but I found it easier and less messy to use a piping bag. They bake and cool quickly though, so once they're in the oven, it's not much longer to until you can enjoy them!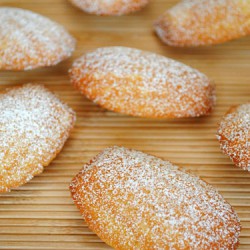 Vanilla Madeleines
Ingredients:
2 cups all-purpose flour
1 tsp. baking powder
Coarse salt
6 large eggs, room temperature
1 cup granulated sugar
2 tbsp. packed light-brown sugar
2 sticks unsalted butter, melted
1 tbsp. plus 1 tsp. honey
3/4 tsp. pure vanilla extract
Confectioners' sugar, for dusting
Directions:
1. Whisk together flour, baking powder, and 3/4 teaspoon salt in a medium bowl.
2. Whisk together eggs and granulated and brown sugars with a mixer on high speed until pale and fluffy, about 10 minutes. Sift flour mixture over top in two additions, folding in after each addition. Fold in melted butter in 2 additions, then honey and vanilla. Refrigerate, covered, for at least 2 hours.
3. Preheat oven to 350F. Let batter stand at room temperature for 10 minutes. Generously butter 2 standard-size or 2 mini nonstick or aluminum madeleine pans using a pastry brush or spray with cooking spray.
4. Transfer batter to a pastry bag, and snip tip to create a 1/2-inch opening. Pipe some batter into molds, filling each about three-quarters full. Bake on middle rack until pale gold, 8 to 11 minutes (6 to 8 minutes for mini madeleines). Immediately shake madeleines out. Wash and rebutter molds. Repeat with remaining batter. Dust baked madeleines with confectioners' sugar.