If you've never heard of or tasted a poke cake, you've been missing out. It's a cake you literally poke holes in so a filling can ooze down in it. I've been making a strawberry version for a long time, but for some odd reason haven't ventured into other flavors. Enter Key Lime Poke Cake. Take a white cake, fill it with basically key lime pie, and finish it with a cool creamy vanilla-lime topping. It's as if pie and cake had a baby.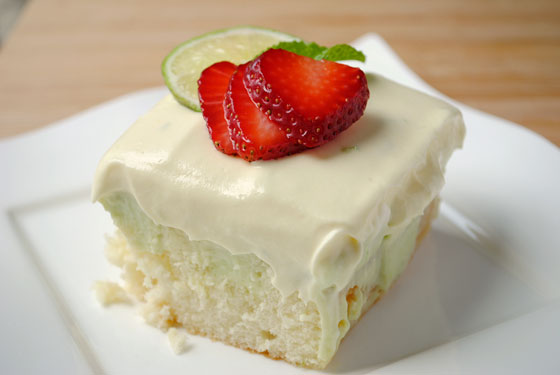 So, how's it taste?
It's pretty freakin' awesome if I do say so myself! It's a sweet white cake smothered and injected with key lime pie. The only thing that's missing is the graham crackers. I am not a fan of white cake, but gussied up like this I could eat the whole pan in one sitting! Ok, not really but I'd make a pretty good dent in it from trying. What I like best about this cake is that it's so refreshing. It's perfect for summer. The cake is sweet so it balances out the pucker from the filling, as it's pretty tart. The original recipe gives you the option to add food coloring, which I did, and it turned it an odd shade of green. You can't really see it in my picture, but I recommend the natural look. The filling is also pretty thick, so you can't see it well in this picture as it didn't drip down the holes as lovely as the picture over on Betty Crocker's web site. I'm convinced they doctored their slice. 😉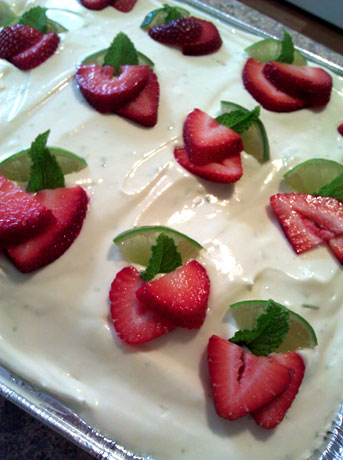 Instead of frosting like the original recipe, I used a different topping. Frosting would be too thick and too sweet for a cake like this. I opted for vanilla pudding mixed with whipped topping and speckled with lime zest for my cake instead. It's much lighter and fits with the overall taste better. I made this cake for my mom and her coworkers and it received rave reviews. I had to hold myself back from eating a second piece when I delivered it. (Yes, I gave them a cake with a piece missing. I am a food blogger with no shame!) I decorated the finish cake (please forgive the phone pic) with strawberries, lime slices, and mint to set off the pale yellow topping.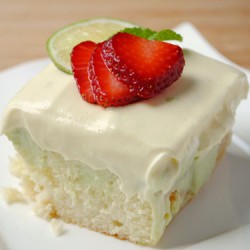 Key Lime Poke Cake
Ingredients:
Cake
1 box white cake mix (I use Duncan Hines)
1 1/4 cups water
1 tbsp. vegetable oil
4 eggs
Key Lime Filling
1 can (14 oz.) sweetened condensed milk (not evaporated)
3/4 cup whipping cream
1/2 cup Key lime juice or regular lime juice
1 tsp. grated lime peel
Topping
1 (3.4 oz) package vanilla instant pudding and pie filling
1 cup milk
3 cups frozen non-dairy whipped topping (a little less than one 8 oz. tub)
2 tsp. grated lime peel
fresh strawberries, optional for garnish
fresh lime slices, optional for garnish
fresh mint leaves, optional for garnish
Directions:
1. Heat oven to 350°F (325°F for dark or nonstick pan). Spray bottom only of 13x9-inch pan with baking spray with flour.
2. In large bowl, beat cake ingredients with electric mixer on low speed 30 seconds, then on medium speed 2 minutes, scraping bowl occasionally. Pour into pan.
3. Bake 27 to 33 minutes or until toothpick inserted in center comes out clean. Cool 5 minutes. With handle of wooden spoon (1/4 to 1/2 inch in diameter), poke holes almost to bottom of cake every 1/2 inch, wiping spoon handle occasionally to reduce sticking.
4. In medium bowl, stir together filling ingredients (mixture will thicken). Pour over cake; spread evenly over surface, working back and forth to fill holes. (Some filling will remain on top of cake.) Refrigerate 1 hour.
5. For topping, prepare pudding mix according to package directions using 1 cup milk. Fold whipped topping and lime zest into pudding mixture. Spread over cake. Garnish with fresh strawberries, lime slices, and mint, if desired. Refrigerate at least 4 hours.