This year with the work birthdays, I created a new way for coworkers to get a birthday treat. Instead of me guessing what they would like, I created "The List." It's a list of about 20 or so desserts, with descriptions, they can choose from. No one sees The List until their birthday comes up. You're not allowed to share what's on the list, but the birthday person can choose whether or not to share what they picked. Once a dessert is chosen, it's off the list, no repeats. It makes it fun and special when it's birthday time! My boss chose these Sopapilla Cheesecake Bars and I was so glad he did. My mom made these a few times and raved over them, so I couldn't wait to try them myself.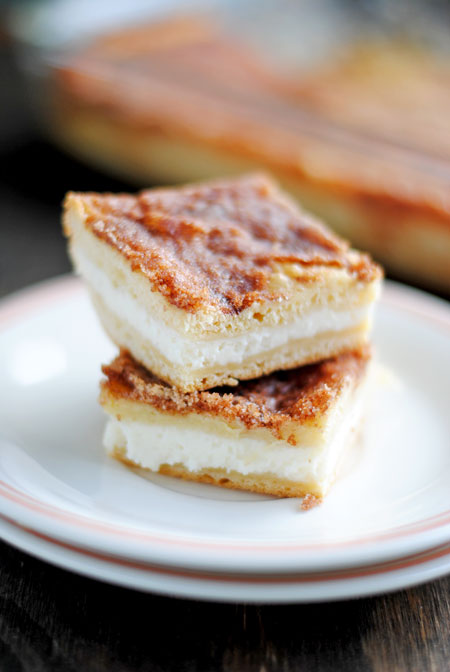 So, how's it taste?
They were such a big hit at work! I've been bringing in desserts for a little over two years and this one was by far the favorite. Several of my coworkers told me it's the best dessert I've made so far. The best part? It's probably one of the easiest I've made so far, too! I made these late on a Sunday night (thank you Walmart for your atrocious lines at customer service and check out, amiright?). Some desserts require lots of time in the kitchen with different steps, but not these.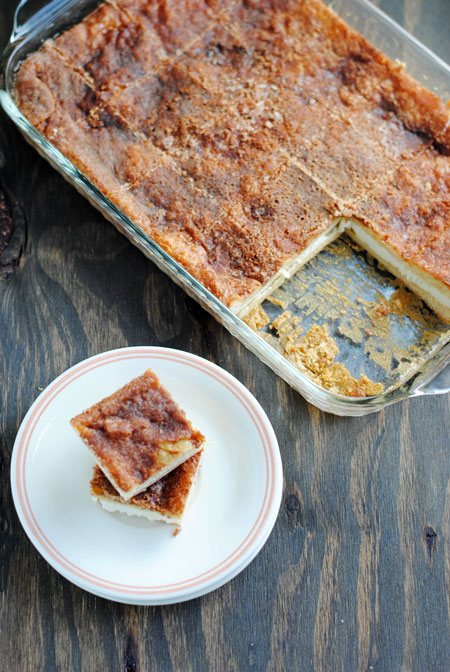 There's a bottom crust and top crust, both made out of refrigerated crescent dough. This is also my one, teeny tiny complaint. You can taste that canned dough flavor. Even with that said, there's still a big ol' layer of sweetened cream cheese that makes these bars more like a danish or breakfast pastry. All that cheesecake-y, ooey, gooey goodness inside…sign me up!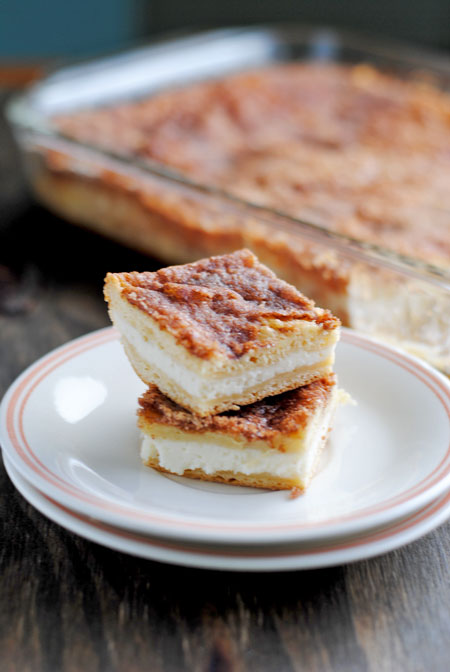 Now this dessert is not figure friendly. To get that crispy, cinnamon sugar crust, you melt an entire stick of butter on top before it bakes. It'll look like a crazy mess, almost to the point where you think the bars will be greasy. Trust me, it works out perfectly. They'll continue to bake a bit when you take them out of the oven and that's when the magic happens and it transforms into a crispy crust on top. That paired with the creamy inside is to die for. The only thing I may add next time is a touch of lemon juice to wake up the cream cheese filling. But these are pretty darn spot on as is.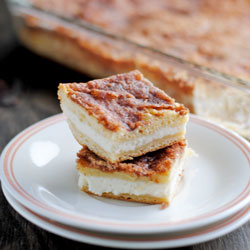 Yield: 24 bars
Prep Time: 15 min
Cook Time: 30 min
Total Time: 1 hr 5 min
Sopapilla Cheesecake Bars
Ingredients:
2 cans (8 oz. each) refrigerated crescent dinner rolls
2 packages (8 oz. each) cream cheese, softened
1 1/2 cups sugar, divided
1 tsp. vanilla
1/2 cup butter, melted
1 tbsp. ground cinnamon
Directions:
1. Heat oven to 350F.
2. Unroll 1 can of dough. Place in bottom of ungreased 13x9-inch (3 quart) glass baking dish. Stretch to cover bottom of dish, firmly pressing perforations to seal.
3. In medium bowl, beat cream cheese and 1 cup of sugar with electric mixer on medium speed until smooth. Beat in vanilla. Spread over dough in baking dish.
4. Unroll second can of dough. Carefully place on top of cream cheese layer. Pinch seams together.
5. Pour melted butter evenly over top. Mix remaining 1/2 cup sugar with cinnamon; sprinkle evenly over butter.
6. Bake about 30 minutes or until center is set. Cool slightly, about 20 minutes. Refrigerate for easy cutting. Cover and store in refrigerator. These are best served warm. Heat bars in microwave uncovered for 5 to 10 seconds to rewarm.