These Banana Toffee Picnic Cupcakes are the perfect dessert to keep summer alive and get you excited about fall. Yes, despite all the pumpkin everything that's popping up, it's still summer. That's why I love these cupcakes. They're called picnic cupcakes because they don't need frosting, which makes them easier to transport. The sweet banana reminds me of banana bread, so it's just a hint of all those comforting flavors headed our way for fall. The best of both seasons I say.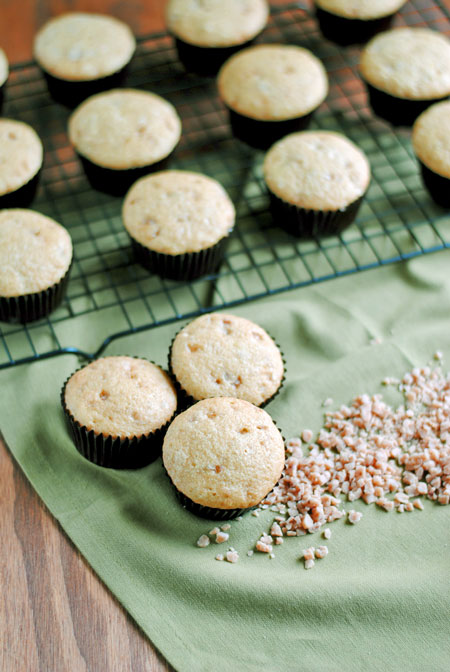 So, how's it taste?
When it comes to cupcakes, I lean more toward the cake part with just a bit of frosting. I despise those cupcake places that pile the frosting so high that you barely see a cupcake hiding underneath. I've been known to scrape off the frosting if I deem it too much. That's why I'm absolutely digging these picnic cupcakes.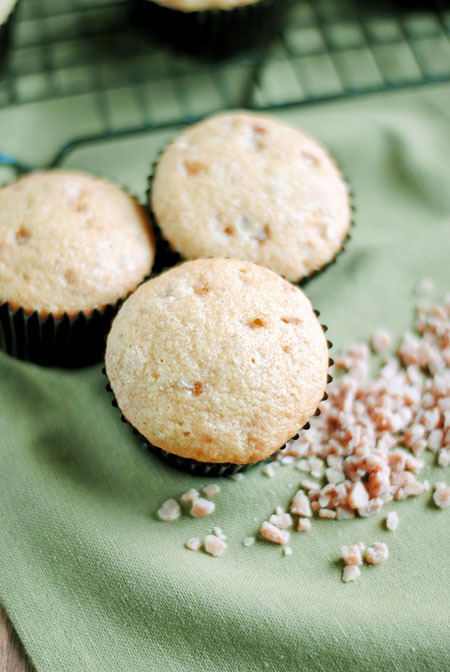 The banana makes them so sweet and moist that you won't miss any frosting. I tested this theory and schmeared one cupcake with some chocolate spread and it kind of ruined it. These delicate cupcakes don't need anything on top. The toffee bits melt into the cake, so they lose their crunch, but I liked the small bursts of toffee. You can also detect the almond extract, which goes fabulously with the banana.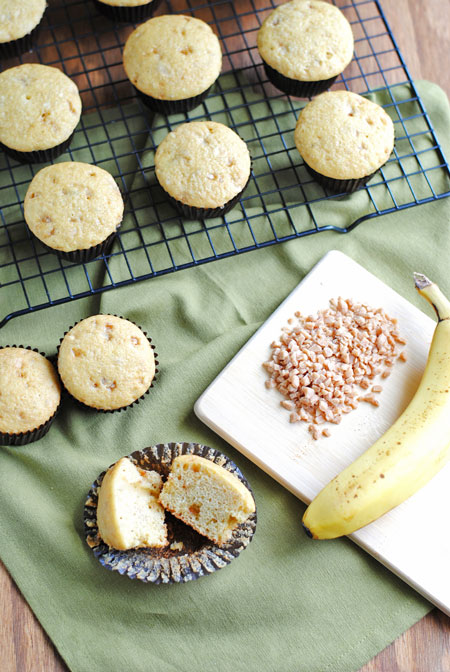 I do think that the toffee bits could be doubled. Next time I'll add a full cup of them. You could also add mini chocolate chips instead of the toffee bits, or really take this recipe to the next level and do half toffee bits, half chocolate chips! Either way, you're in for a treat!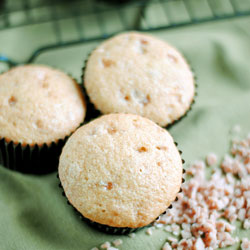 Yield: 24 cupcakes
Prep Time: 15 min
Total Time: 40 min
Banana Toffee Picnic Cupcakes
Ingredients:
1 box yellow cake mix
1 cup mashed very ripe bananas (2 medium)
1/3 cup water
1/3 cup vegetable oil
1/2 tsp. almond extract
3 eggs
1/2 cup toffee bits
Directions:
1. Heat oven to 350F (325F for dark or nonstick pan). Place paper baking cup in each of 24 regular-size muffin cups.
2. In large bowl, beat cake mix, bananas, water, oil, almond extract, and eggs with electric mixer on low speed 30 seconds, then on medium speed 2 minutes. Stir in toffee bits. Divide batter evenly among muffin cups.
3. Bake 18 to 25 minutes or until golden brown and toothpick inserted in center comes out clean. Immediately remove from pans to cooling racks. Cool completely, about 30 minutes. Store loosely covered.
per cupcake: 140 calories, 6g fat, 20g carbs, 1g protein, 0g fiber