Blackberry and chocolate? Raspberry and chocolate go so well together, so why not? I created these Blackberry Chocolate Cupcakes for a lavender and purple themed bridal shower this past weekend. They were instantly my favorite out of the entire spread of food. Actually they just might be one of my all-time favorite cupcakes ever. Not chocolate and caramel or chocolate dripping with more chocolate. Yep, chocolate and blackberry.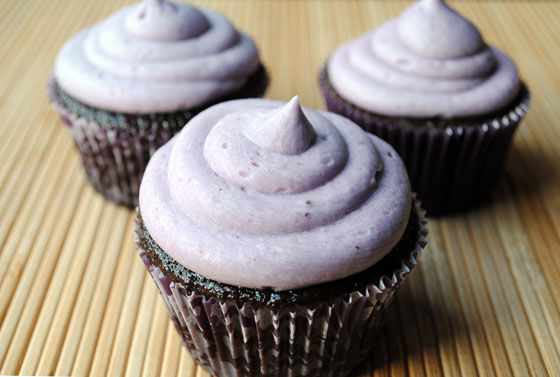 So, how's it taste?
I really wish I could send all of you one of these cupcakes. They blew my mind! I had a feeling they'd be pretty darn good because for my birthday last year, Shannon over at Family Bites, made me the same cupcake but with raspberry. It also blew my mind. I went with blackberry because it's my favorite of the berries, and I thought it would help color the buttercream closer to purple than raspberry. I still added violet food coloring to get the right shade of lavender. The chocolate cake is my go to recipe from Hershey's. It's amazing and the only chocolate cake recipe I use (unless it's Duncan Hines). Rich and super chocolatey, yet light as air.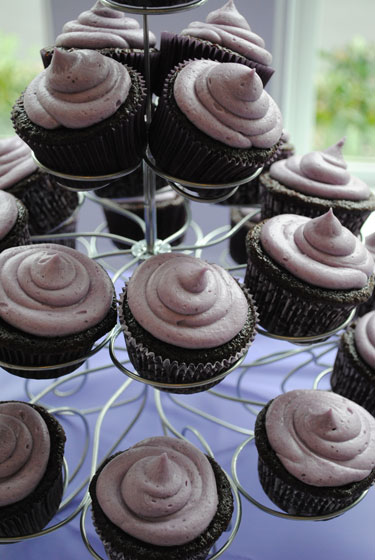 The fruited buttercream is simply to die for. The preserves are sweet but have a hint of tang from the berries so it cuts into the richness of the buttercream. I go crazy for it. It makes me think of all the different flavors I could create with fruited buttercream. I'm not a huge icing fan and regular buttercream I'd rather scrape off than eat, but this fruit business takes it to another level. You'd be surprised how chocolate and blackberries come together for a fantastic pairing.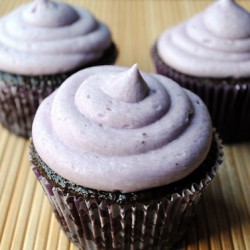 Blackberry Chocolate Cupcakes
Ingredients:
Cupcakes
2 cups sugar
1 3/4 cups all-purpose flour
3/4 cup Hershey's cocoa
1 1/2 tsp. baking powder
1 1/2 tsp. baking soda
1 tsp. salt
2 eggs
1 cup milk
1/2 cup vegetable oil
1 tsp. vanilla extract
1 cup boiling water
Filling
Seedless blackberry preserves
Buttercream
1 cup (2 sticks) unsalted butter, room temperature
1/2 cup seedless blackberry preserves
6 cups powdered sugar
Food coloring, optional
Directions:
1. For the cupcakes, heat oven to 350°F. Line muffin cups (2-1/2 inches in diameter) with paper baking liners.
2. Stir together sugar, flour, cocoa, baking powder, baking soda, and salt in large bowl. Add eggs, milk, oil, and vanilla; beat on medium speed of mixer 2 minutes. Stir in boiling water (batter will be thin). Fill cups 2/3 full with batter.
3. Bake 22 to 25 minutes or until wooden pick inserted in center of cupcake comes out clean. Cool 10 minutes; remove from pans to wire racks. Cool completely.
4. Use a piping bag with a small rounded tip to pipe a bit of the blackberry preserves into each cooled cupcake. If you'd like a lot of filling, use a cupcake corer or small spoon to scoop out a bit of cake and then fill with the preserves.
5. For the buttercream, beat the butter and preserves in a mixer until blended and fluffy. Gradually add the powdered sugar and mix until smooth. Add food coloring, if using, and mix until well blended. Pipe onto filled cupcakes.