I had high hopes for these Chunky Peanut, Chocolate, and Cinnamon Cookies. I thought they'd be pretty phenomenal with the combo of peanut, chocolate, and cinnamon, and was expecting them to be chewy, gooey cookies. We usually make some sort of peanut butter cookie and a chocolate chip cookie so I was hoping this would be an awesome combination of the two with my favorite ingredient with chocolate…cinnamon. As it turns out, these cookies got my vote for the least favorite of the nine varieties we made.
So, how's it taste?
I wanted them to be fabulous so badly. There's only a 1/2 teaspoon of cinnamon for five dozen cookies, so I should have known that flavor wasn't going to shine through. You could barely taste it. The cookies didn't spread out at all from the flattened ball shape. They ended up being small, crispy cookies. They were good, not bad at all, but just not my thing in a cookie. Just a regular ol' peanut butter cookie with peanuts and chocolate chips. But then again, it's hard to compete with the eight other kinds we made! Without a strong cinnamon flavor, these cookies didn't stand a chance!
Other goodies from Cookie Baking Day 2010:
Almond Macaroons
Buttery Pecan Rounds
Crunchy Muncher Cookies
Striped Icebox Cookies
Mint Chocolate Chip Cookies
Chewy Chocolate Gingerbread Cookies
Cream Cheese Spritz Cookies
Apricot Sour Cream Tea Cookies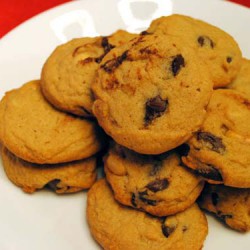 Chunky Peanut, Chocolate, and Cinnamon Cookies
Ingredients:
2 cups all-purpose flour
1 tsp. baking soda
1 tsp. salt
1/2 tsp.ground cinnamon
3/4 cup (1 1/2 sticks) unsalted butter, softened
1/2 cup smooth peanut butter
1 cup packed light-brown sugar
1/2 cup granulated sugar
2 large eggs
1 1/2 cups semisweet chocolate chips
2/3 cup roasted, salted peanuts, coarsely chopped
2 tsp. pure vanilla extract
Directions:
1. Preheat oven to 350 degrees. Whisk together flour, baking soda, salt, and cinnamon in a medium bowl. Put butter and peanut butter in the bowl of an electric mixer fitted with the paddle attachment; mix on medium speed until combined, about 2 minutes. Add sugars; mix 2 minutes. Mix in eggs. Gradually add flour mixture; mix until just combined. Fold in chocolate chips, peanuts, and vanilla with a mixing spoon until well distributed. Refrigerate dough until it is slightly firm, 15 minutes.
2. Roll dough into 1-inch balls. Space balls 2 to 3 inches apart on baking sheets lined with parchment paper. Flatten slightly. Bake until just golden, about 13 minutes. Transfer cookies to wire racks to cool. Serve with ice cream.