I know, I know. We're almost finished with January and I'm posting something that looks like it was better suited for the holidays. Well, you're right. When I first started food blogging, I worried that I wouldn't have enough material. Wrong! It seems to take me weeks to post something after I eat it. Nature of the beast I guess, or else I need to slow down which is just no fun at all. So I present you with our Christmas sweet treat, Praline Pumpkin Dessert. It's almost a dessert mash-up of pumpkin pie and cake!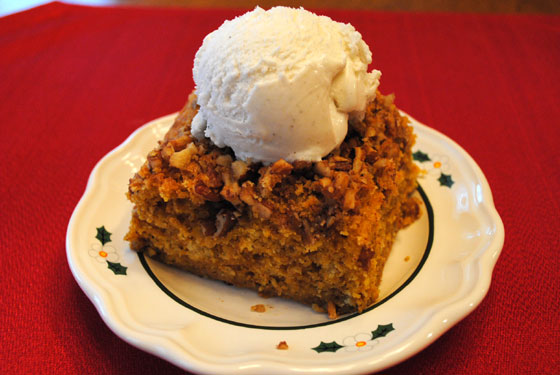 So, how's it taste?
I really liked it and it had a wonderful taste (especially with a scoop of vanilla!), but I'm glad I read the reviews and did some tweaking to the instructions. I think the idea was to have sort of a pumpkin pie on the bottom and cake on the top. Several reviewers suggested fully mixing the ingredients. So being cautious, I swirled the ingredients instead. They weren't fully mixed, but it was more than two distinct layers. I'm glad I did. It was delicious with everything together. I think I'll fully mix it next time (except still top the cake with the pecans). Warm up a slice and serve with a scoop of ice cream. The ice cream starts melting and mmm mmm! An easy and tasty dessert for you pumpkin lovers. Bookmark this one for the holidays!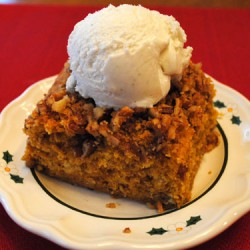 Praline Pumpkin Dessert
Ingredients:
1 can (15 oz) pumpkin (not pumpkin pie mix)
1 can (12 oz.) evaporated milk
3 eggs
1 cup sugar
4 tsp. pumpkin pie spice
1 box yellow or spice cake mix (I used yellow)
1 1/2 cups chopped pecans or walnuts
3/4 cup butter, melted
Whipped cream or vanilla ice cream, if desired
Additional pumpkin pie spice, if desired
Directions:
1. Heat oven to 350°F. Grease or spray bottom and sides of 13x9-inch pan. In medium bowl, mix pumpkin, milk, eggs, sugar and 4 teaspoons pumpkin pie spice with until smooth. Pour into pan.
2. Sprinkle dry cake mix over pumpkin mixture. (I'd suggest mixing the ingredients fully here.) Sprinkle with pecans. Pour melted butter evenly over top.
3. Bake 50 to 60 minutes or until knife inserted in center comes out clean.