You all know I'm a self-proclaimed chocoholic. I can't get enough of the stuff. But you may not know how obsessed I am with it when combined with mint. Chocolate and mint are made for each other. What's my favorite ice cream? Mint chocolate chip. What's my favorite cookie? Well, it used to be these Mint Chocolate Chip cookies until I came across Mint Chocolate Pudding Cookies from my friend Julie over at Table for Two. Her blog is full of fantastic desserts and incredible photography, so I knew these wouldn't disappoint.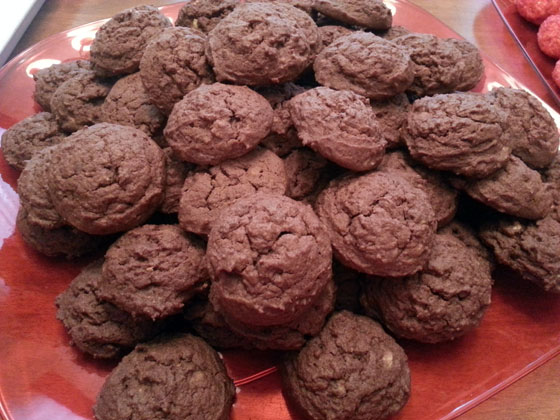 So, how's it taste?
Oh my word. They are the end all, be all of chocolate mint cookies. They are so chocolatey, yet the mint is just right. I don't know what magic the pudding mix is working, but the level of chocolate is sinful. It's so rich and decadent and the mint balances it out. You can smell the mint, but it's not overpowering the entire cookie. They're soft, too, which is how I prefer most cookies. I could not stop eating these. I seriously considered not including them in our batch of cookies that I send to friends and bring to work because I wanted them all to myself. I would have felt too guilty keeping these from the masses though!
We purposely make our cookies on the small side for cookie baking day since we have so many varieties, so feel free to make them larger. You can also save a sprinkling of the Andes mint chips to decorate the tops before they bake since they don't show much. There's definitely another batch of these in my future…and I may or may not be sharing!
Other goodies from Cookie Baking Day 2012:
Cream Cheese Spritz
Cranberry Orange
Snickersnaps
Butterscotch Spice
Mexican Wedding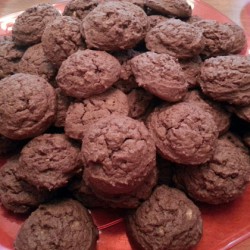 Mint Chocolate Pudding Cookies
Ingredients:
1 cup unsalted butter, room temperature
3/4 cup dark brown sugar
1/4 cup granulated sugar
1 (3.4 oz.) package of instant chocolate fudge pudding mix
2 large eggs
1 tsp. vanilla extract
2 1/4 cups all purpose flour
1/4 cup Dutch-processed cocoa powder
1 tsp. baking soda
1/2 tsp. salt
1 cup Andes mint baking chips
Directions:
1. Preheat oven to 350F degrees. Line baking sheets with parchment paper.
2. Using a stand mixer fitted with the paddle attachment, cream together butter, brown sugar, and granulated sugar until creamy. Add in the pudding mix, eggs, and vanilla extract. Beat well until incorporated.
3. Add the flour, cocoa powder, baking soda, and salt until just combined. Fold in the mint chips.
4. Drop cookie dough onto prepared baking sheet by rounded tablespoons and bake for 10 minutes or until set.
5. Remove from oven and let cool on baking sheet for 5 minutes. Transfer to wire cooling racks to cool completely. Store in an airtight container for up to 5 days.