Aren't these cookies so pretty? As I was flipping through my cookbook, I stopped on this recipe for Iced Lemon Pistachio Cookies because I thought they were so festive with the flecks of green from the pistachios. I also wanted a citrus cookie to balance out all the other chocolate cookies from cooking baking day. This cookie was the most raved about at both my work and my mom's work. I'd say they were a hit!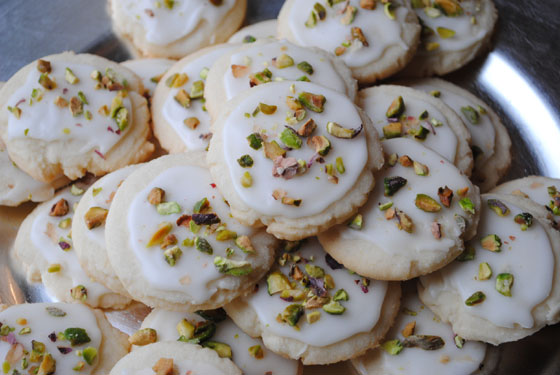 So, how's it taste?
It's always interesting to me what cookies people talk about the most. I think this one was the winner, but what's funny is it was my least favorite. Not because it didn't taste good, but because of the texture. I like soft, chewy cookies and this one is crisp and sandy. The glaze helps to soften the cookie just a tad bit, and they get softer the older they are, but still keep the sandy texture. I much prefer the 3-day-old ones over the freshly baked ones. The flavor is fantastic! The cookie is delicate and sweet and quite plain. It's slightly scented with lemon from the fresh peel and it smells incredible while you're mixing it. I think the cookie needs to be on the boring side to be the perfect vehicle for the lemony glaze. The glaze is tart and that's how I like lemon. It's not too much though, because of the cookie underneath. The pistachios give that extra something to make it special. Despite not liking the texture, it was a great cookie and so festive for the holidays!
Other goodies from Cookie Baking Day 2011:
Cream Cheese Spritz Cookies
Orange Pecan Gems
Cranberry White Chip Oatmeal Cookies
Chocolate Malt Cookies
Triple Chocolate Oreo Chunk Cookies
Banana Walnut Chocolate Chunk Cookies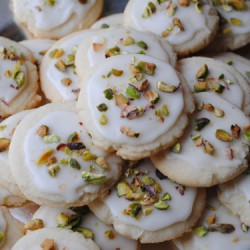 Iced Lemon Pistachio Cookies
Pillsbury
makes 5 dozen cookies
1 cookie: 90 calories, 4g fat, 11g carbs, 0g fiber, 1g protein
Ingredients:
Cookies
1/2 cup butter, softened
1/2 cup granulated sugar
1/2 cup powdered sugar
1 egg
1/2 cup vegetable oil
1 tsp. fresh grated lemon peel
2 1/4 cups all-purpose flour
1/2 tsp. baking soda
1/2 tsp. cream of tartar
1/4 tsp. salt
3 tbsp. granulated sugar (I used about 2 tbsp.)
Topping
2 cups powdered sugar
3 to 4 tablespoons fresh lemon juice
1/2 cup coarsely chopped pistachio nuts
Directions:
1. In large bowl, beat butter, granulated sugar, and powdered sugar with electric mixer on medium speed until light and fluffy. Beat in egg, oil, and lemon peel until well blended. On low speed, beat in flour, baking soda, cream of tartar, and salt until well blended. Cover with plastic wrap; refrigerate 2 hours for easier handling.
2. Heat oven to 325°F. Shape dough into 1-inch balls. On ungreased cookie sheets, place balls 2 inches apart. Dip bottom of small glass into 3 tablespoons sugar; press on cookies to make about 2 inches in diameter.
3. Bake 9 to 11 minutes or until edges begin to set and cookies are light golden brown. Cool 2 minutes; remove from cookie sheets to cooling racks. Cool completely, about 10 minutes.
4. Meanwhile, in small bowl, mix 2 cups powdered sugar and enough lemon juice until smooth and spreadable. Spread frosting on cookies. Sprinkle nuts on frosting before it sets.