Two more days until Christmas! Can you believe it? I have so many recipes I wanted to bake, but ran out of time. I'll just have to bookmark those goodies for next year. Thankfully I squeezed in this Gingerbread Cake to share with you this year! It's perfect for the holidays with its traditional flavor and it's super easy to make. So if you're looking for a last minute, quick holiday dessert, this is it!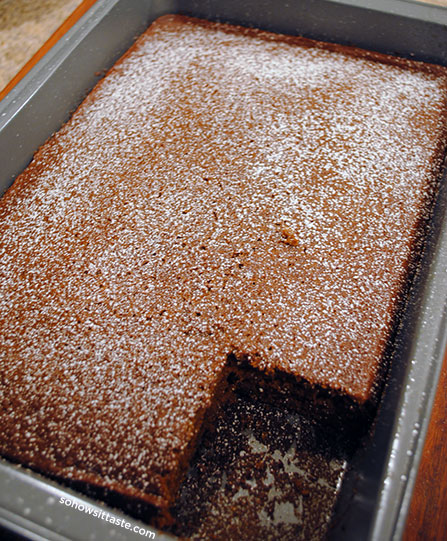 So, how's it taste?
I loved it! So much that I'm pretty sure I'll make this every year. Gingerbread cookies are fun to make, but tedious, so now you can enjoy those flavors in cake form. I really wish I had a better picture for you, because this in-the-pan shot doesn't do it justice. Alas, this time of year is hell for food bloggers with such limited natural light. Back to the cake! It is true gingerbread flavor! It's full of molasses and those wonderful spices like ginger, cinnamon, and cloves. I couldn't get enough of it. The texture is super moist and this cake gets better the older it is. It's great fresh, but was off the charts the next day. It's not very sweet, so the powdered sugar sprinkling on top is perfect. Mine melted into the cake by morning, so you couldn't see it. A dollop of whipped topping (or the real stuff if you want to get fancy) is all it needs. A wonderful treat during the holiday season!
This recipe comes from the 9×13: The Pan That Can (Better Homes and Gardens Cooking)
cookbook. This cookbook is filled with recipes that, you guessed it, are baked in a 9×13 pan. From breakfasts, to main dishes, to desserts, it has everything. I've made Pastitsio from this cookbook before and I bookmarked so many recipes that the post coming up for Wednesday is also from this book! This would be a great gift, tucked inside a 9×13 pan for the cook in your life. 😉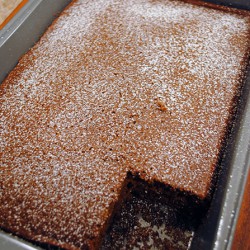 Yield: 16 servings
Prep Time: 20 min
Cook Time: 40 min
Total Time: 2 hr
Gingerbread Cake
The perfect cake for this time of year with its old-fashioned and comforting flavors. Serve it warm with whipped cream.
Ingredients:
1/2 cup butter
2 eggs
2 1/3 cups all-purpose flour
1 1/2 tsp. baking powder
1 tsp. ground ginger
1/2 tsp. baking soda
1/2 tsp. cinnamon
1/4 tsp. salt
1/4 tsp. ground cloves
1/2 cup granulated sugar
1 cup mild-flavored molasses
1 1/4 cups cold water
Powdered sugar
Whipped topping (such as Cool Whip) or whipped cream, optional
Directions:
1. Allow butter and eggs to stand at room temperature for 30 minutes. Meanwhile, grease a 9x13-inch baking pan or dish; set aside. Preheat oven to 350F if using baking pan or 325F if using baking dish.
2. In a medium bowl stir together flour, baking powder, ginger, baking soda, cinnamon, salt, and cloves; set aside.
3. In a large bowl beat butter with an electric mixer on medium to high speed for 30 seconds. Add granulated sugar; beat until well mixed. Add eggs, one at a time, beating well after each addition. add molasses; beat until well mixed. Alternately add flour mixture and the cold water to beaten mixture, beating on low speed after each addition just until combined. Spread batter evenly in prepared pan or dish.
4. Bake for 40 to 50 minutes or until a toothpick inserted near center comes out clean. Cool in pan or dish on wire rack for 30 minutes. Sprinkle cake with powdered sugar. Top each serving with a dollop of whipped topping, if desired, and serve warm.
per serving: 213 calories, 7g fat, 36g carbs, 1g fiber, 1g protein
Source: 9x13: The Pan That Can (Better Homes and Gardens Cooking)
This post contains affiliate links.