Please meet my new favorite brownie in the entire world, Knock You Naked Brownies. They don't really knock your clothes off when you take a bite, but almost. I've had these bookmarked from The Pioneer Woman for way too long and finally got the chance to make them for a cookout. They were so good, I made a second batch to take to my mom's work the next day. Those ladies love sweets as much as I do, so I had to share these with them. Just look at that gooey caramel oozing out of the center! I almost kept the entire batch to myself!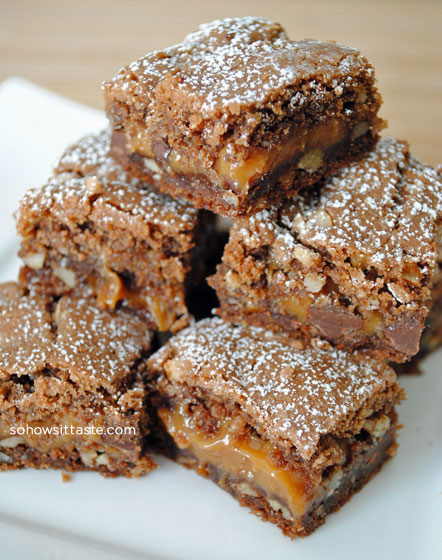 So, how's it taste?
This is another one of those times where I wish the Interwebs were advanced enough so a brownie would pop out of your screen while you're reading this. Nothing I type here is going to do it justice. They are incredibly rich and decadent, which a 9×9 pan makes 36 brownies and that sounds really small, but trust me, a few bites is all you need. The Pioneer Woman cuts hers into 12, which she must be a in a sugar coma after eating 1/12 of these in one sitting. I've got a crazy sweet tooth, and that seems too much for me. But cut them any size you like! Heck, don't even bother and just grab a fork!
That oozing caramel gets me every time. It's between two "brownies" which is really made from a cake mix. I've made these brownies twice now and used German Chocolate cake mix both times, but I'm convinced these would be over-the-top crazy good using Devil's Food. I'm totally doing that next time. There's also a layer of semisweet chocolate chips right on top of the caramel. It's pure indulgent heaven. Totally worth the splurge!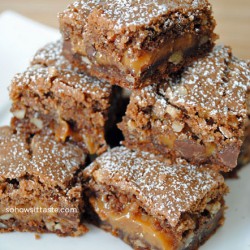 Knock You Naked Brownies
Ingredients:
1 box (18.5 oz.) German Chocolate Cake Mix (I use Duncan Hines)
1 cup chopped pecans
1/3 cup evaporated milk
1/2 cup evaporated milk (additional)
1/2 cup butter, melted
60 whole caramels, unwrapped (I use Kraft)
1/3 cup semi-sweet chocolate chips
1/4 cup powdered sugar
Directions:
1. Preheat oven to 350 degrees. Spray a 9x9-inch square baking pan with cooking spray and line with parchment paper so the paper hangs over two sides. Spray the parchment paper with cooking spray.
2. In a large bowl or using a mixer, mix together cake mix, chopped pecans, 1/3 cup evaporated milk, and melted butter. Stir together until combined. Mixture will be very thick.
3. Press half the mixture into the prepared baking pan. Bake for 8 to 10 minutes. Remove pan from oven and set aside.
4. In a double boiler (or a heatproof bowl set over a saucepan of boiling water) melt caramels with the additional 1/2 cup evaporated milk. When melted and combined, pour over brownie base. Be careful as you pour as the middle of the cake isn't as sturdy and a big splash of hot caramel may break it causing the caramel to sink to the bottom. Sprinkle chocolate chips evenly over the caramel.
5. Turn out remaining brownie dough on work surface. Use your hands to press it into a large square a little smaller than the pan. Use a spatula to remove it from the surface, then set it on top of the caramel and chocolate chips. It's ok if you can't lift the entire square. You can easily top the caramel with pieces of the dough and it will come together as it bakes.
6. Bake for 20 to 25 minutes. Leave brownies in pan to cool and put in refrigerator for several hours, until the caramel layer is set. Remove brownies from pan by lifting the parchment handles and allow to come to room temperature. When ready to serve, generously sift powdered sugar over the surface of the brownies. Cut into 36 brownies (or less if you want bigger brownies).