Ok, so these are cheating just a bit since they are from gasp! a mix, but you won't believe how stinkin' good they are! I made these Chocolate Chip Cookie Dough Brownies for a friend's birthday who told me he liked cookies or brownies. I'm not one to bring the same ol' same ol', so I found these on Betty Crocker's website and thought they would be perfect.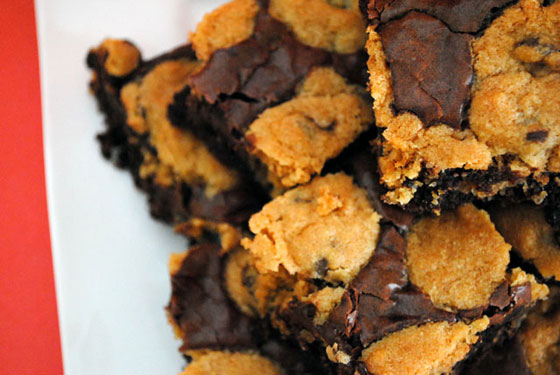 So, how's it taste?
Num, num, num! Crazy good. Like a brownie, but way better and like a cookie, but way better. Talk about a perfect combo to satisfy a sweet tooth. The recipe could not be easier. Grab a box of brownie mix, grab a pouch of chocolate chip cookie mix, and let them bake together into this perfect square of goodness. A glass of milk never had a better partner. The original recipe calls for adding frosting. After reading through several reviews on it being too rich, I decided to leave it unfrosted. I would like to try homemade brownie and cookie mix to see how much better they could be (although these are pretty darn amazing), but if you're in a hurry and need something impressive, don't hesitate to let Betty do some work for you. I will have these in my oven again for sure!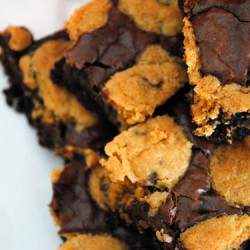 Chocolate Chip Cookie Dough Brownies
Ingredients:
1 box Betty Crocker® Original Supreme brownie mix (with chocolate syrup pouch)
1/3 cup vegetable oil
1/4 cup water
2 eggs
1 pouch (1 lb 1.5 oz) Betty Crocker® chocolate chip cookie mix
1/2 cup butter or margarine, softened
1 egg
1 container chocolate frosting
Directions:
1. Heat oven to 350ºF. Grease bottom only of 13x9 pan. Make brownie mix as directed on box, using oil, water and 2 eggs. Spread in pan.
2. Make cookie mix as directed on pouch, using butter and 1 egg. Drop dough by rounded tablespoonfuls evenly onto brownie batter; press down lightly.
3. Bake 35 to 40 minutes or until toothpick inserted 2 inches from side of pan comes out almost clean. Cool on cooling rack 30 minutes. Frost with frosting.