Why hello there, cure to my once insatiable sweet tooth. This Oatmeal Turtle Tart is what I made last month for my mom on Mother's Day. She loves chocolate and caramel about as much as I do. I guess that's where I get it from. I almost always make a chocolate dessert when it comes to treats for her. Remember her birthday Whoppers Cupcakes? This tart has an oatmeal cookie base, a caramel filling, and a chocolate topping with all three layers involving pecans. It's insanely rich, so all you need is a sliver, but that just means there's more to eat later!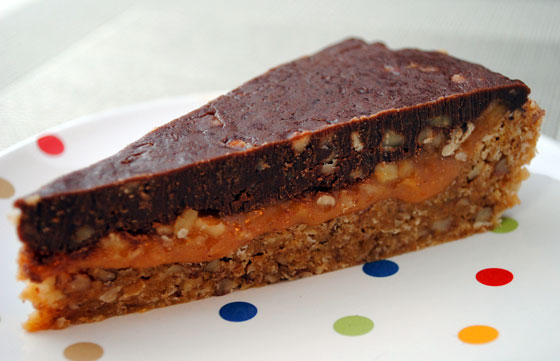 So, how's it taste?
I'm not kidding when I say it's rich or that it's a sweet tooth cure. The base is an oatmeal cookie mix and has cinnamon in it, which chocolate and cinnamon have become one of my favorite combinations. They were seriously meant for each other. If you don't want that flavor, you can use the oatmeal chocolate chip cookie mix and have more chocolate. A win win either way! I ran out of pecans making this recipe so I also used walnuts. The mix worked well, so feel free to use your preference. The tart is a bit thick right out of the fridge, so let it sit for about 10 minutes so the layers are easier to cut through. The best part is once you have your slice and it starts to come to room temperature, the caramel begins to ooze out. It's like the dessert is taunting you, daring you to resist taking another bite!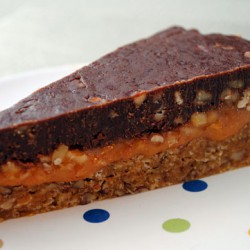 Oatmeal Turtle Tart
Ingredients:
Cookie Crust
1 pouch (1 lb. 1.5 oz.) oatmeal cookie mix (I recommend Betty Crocker)
1/2 cup butter or margarine, softened
1 tbsp. water
1 egg
1 cup chopped pecans
Filling
40 caramels, unwrapped
1/3 cup whipping cream
3/4 cup chopped pecans
Topping
1 bag (11.5 oz) milk chocolate or semisweet chips (2 cups)
1/3 cup whipping cream
1/4 cup chopped pecans
Directions:
1. Heat oven to 350°F. In large bowl, stir cookie mix, butter, water, and egg until soft dough forms. Stir in 1 cup pecans. Press dough in bottom and up sides of ungreased 9-inch tart pan with removable bottom.
2. Bake 19 to 21 minutes or until light golden brown. Cool 10 minutes.
3. Meanwhile, in medium microwavable bowl, microwave* caramels and 1/3 cup cream on High 2 to 4 minutes, stirring twice, until caramels are melted. Stir in 3/4 cup pecans. Spread over cooled crust. Refrigerate 15 minutes. (*I chose to melt mine over the stove on medium-low heat in a small saucepan.)
4. In another medium microwavable bowl, microwave* chocolate chips and 1/3 cup cream on High 1 to 2 minutes, stirring every 30 seconds, until chocolate is smooth. (*I chose to melt mine using a double boiler on the stove.) Pour over filling. Sprinkle with 1/4 cup pecans. Refrigerate 2 hours or until set. To serve, let stand at room temperature 10 minutes before cutting. Store covered in refrigerator.