This Magic Cake has been going around Pinterest lately and I was completely intrigued by how it magically forms three layers. I saved it for another day, until I came across a chocolate version. Whoa! Since Mother's Day was coming up, and my mom loves her chocolate as much as I do, I decided to bake the Chocolate Magic Cake for her special day. There are a lot of steps involved, but looking at the photos from White on Rice Couple's blog, I couldn't wait to see if I could make magic happen in my kitchen, too.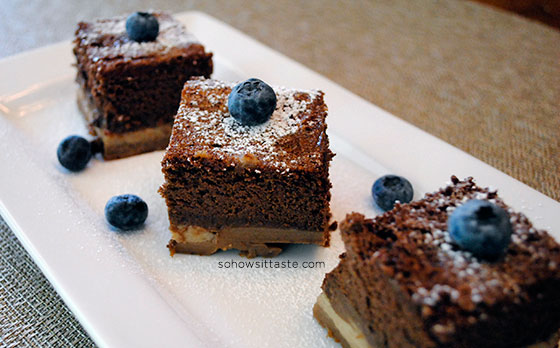 So, how's it taste?
Meh. Not nearly as delicious as their picture looks. You can see from my photos that my "magic" didn't quite happen so perfectly. I didn't get three distinct layers, I got four. The top layer is cake-like and mine is a lot thicker than I expected. That beautiful custard center that I was looking forward to ended up in two layers. Not sure what happened there. The top custard layer was good, but the bottom was lighter and quite frankly, weird. The bottom layer is sort of a crust, and didn't really have much taste to it at all. Overall the cake was tasty. It wasn't very sweet, but chocolatey enough.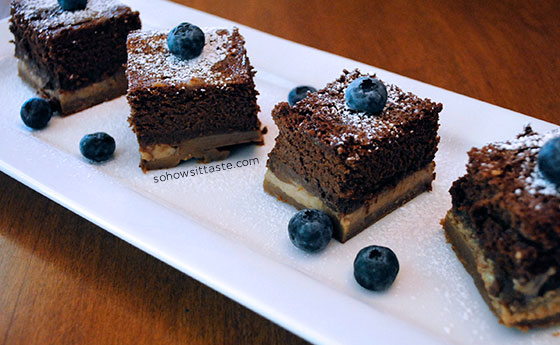 We ate several pieces so it wasn't necessarily bad, but we didn't ooh and ahh over it. I definitely won't be making the non-chocolate version. When I leave my mom's house, I usually take home leftovers and I left all of the cake with her if that tells you anything. My mom told me later she scraped off the cake tops and ate that and tossed the rest. I'm wondering if the "magic" didn't happen because I used skim milk. The recipe doesn't specify which type of milk to use, and that's the only thing I can think of as to what happened. I'm just more of this kind of cake girl!
Have you made a magic cake? If you try this one, let me know how yours turns out!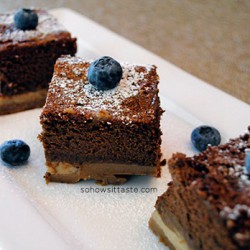 Chocolate Magic Cake
Ingredients:
1/2 cup unsalted butter
2 1/2 cups milk
1 cup flour
1/2 cup cocoa powder
4 eggs, separated
1/8 tsp. distilled white vinegar
1 3/4 cups confectioner's sugar + extra for dusting
2 tbsp. espresso or strong coffee, lukewarm
1 tsp. vanilla extract
fresh berries for garnish, optional
Directions:
1. Preheat the oven to 325F. Spray an 8x8-inch baking dish with cooking spray or grease with butter.
2. Melt the butter and set aside to slightly cool. Warm the milk to lukewarm by microwaving 20-30 seconds; set aside.
3. In a medium bowl, whisk together the flour and cocoa powder.
4. Add the egg whites and vinegar to a mixer fitted with the whisk attachment. Whisk until stiff peaks form. Place egg whites in another bowl and set aside.
5. Using the now empty mixer and the paddle attachment, beat the egg yolks and sugar until combined. Add the melted butter, espresso, and vanilla extract until incorporated.
6. Add the flour/cocoa mixture to the batter until incorporated. At this point, you don't want to use the mixer because adding the milk makes the batter very runny and it will spray everywhere. Hand mix in the the milk until everything is incorporated.
7. Gently fold in the egg whites, 1/3 at a time until all the egg whites are folded in.
8. Pour the batter into the prepared pan and bake for 50-60 minutes. You're looking for the cake to be slightly jiggly because of the custard, but not as jiggly as when you put the pan into the oven. The cake will rise and crack while baking, but while go back down as it cools.
9. Cool cake completely before cutting and dust with confectioner's sugar. The sugar will absorb in quickly, so add a lot if you want it to show. Garnish with fresh berries, if desired.