For someone like me, who couldn't be paid to drink Guinness, it's amazing how much I love to cook with it. It's also amazing to me how it plays so nicely with chocolate. You may remember these Irish Car Bomb Chocolate Cupcakes and the base was a Guinness chocolate cake. And I loved it. I don't know what it is about that beer that I like so much baked into things, but hate by itself. Chocolate just makes everything better, right? I couldn't wait to see how it would taste in Guinness Brownies. Since St. Patrick's Day was Sunday, I thought I'd whip up a batch of these for work for the Friday before.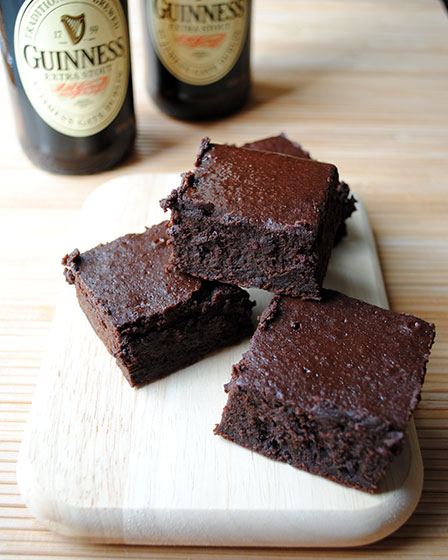 So, how's it taste?
They were uber, super fudgy. Fresh out of the oven, I couldn't stop myself from snagging little bites here and there. It was like a chocolate explosion at first, and then the aftertaste of Guinness. They were so rich and decadent. The funny thing is, the older they got, they lost a lot of that fresh-out-of-the-oven appeal. First, the texture changed. They were light and almost cake-like out of the oven, but as they cooled, they became really dense. I'd almost compare it to the texture of the inside of a truffle. This wasn't a bad thing, but I really liked them as they were fresh. I was glad I substituted semisweet chocolate instead of bittersweet as the original recipe had. I was afraid it would be too bitter with the stout. I think the semisweet made them richer, without being too sickeningly sweet.
Also, the older they got, the more they lost the Guinness flavor. The next day, the aftertaste wasn't as strong and by day three, I couldn't distinguish it at all. I dusted mine with powdered sugar, but that lasted for two seconds. The tops were so fudgy and gooey that it dissolved. The texture kept changing, too. They got gooier and gooier and not in a great way, but again not so bad that I quit eating them. Just a little different than what I'd want in a brownie.
I thought the idea of cooking down the Guinness to concentrate the flavor was a great idea…until I tried it. At first, the smell of Guinness as it was simmering away was intoxicating. Again I can't explain why I like that smell, but won't drink it straight. The original recipe has that it should cook down in 15 minutes and mine was no where near being ready at that time mark. I kept simmering the Guinness and it slowly didn't smell so great, so I stopped. I still had a bit to go, but I measured out the amount and tossed the rest. I was worried that smell would translate to the brownies, but thankfully it didn't.
We enjoyed these brownies at the office and I'd like to try to perfect the recipe. I know chocolate and Guinness go so well together, but I'm convinced there's a better Guinness brownie out there…it's a tough mission, I know. 😉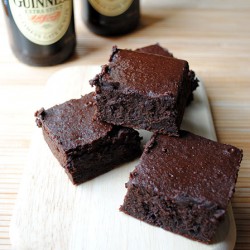 Guinness Brownies
Ingredients:
1 cup all-purpose flour
3/4 cup unsweetened cocoa
1/4 tsp. salt
6 tbsp. unsalted butter, cut into cubes
8 oz. semisweet chocolate, chopped
3/4 cup white chocolate chips
4 large eggs, at room temperature
1 cup sugar
2 bottles Guinness Extra Stout beer
3/4 tsp. vanilla
1 cup mini semisweet chocolate chips
confectioners' sugar, for dusting
Directions:
1. Preheat oven to 375F. Line a 9 x 13-inch baking pan with foil and spray with cooking spray.
2. Pour both bottles of beer into a medium saucepan. Simmer on medium heat until it's reduced down to 1 1/4 cups.* Keep a glass measuring cup nearby to check the progress when you think you're close. It should take about 15 minutes. Set aside to cool.
3. In a medium bowl, whisk together flour, cocoa powder, and salt. Set aside.
4. Melt butter, semisweet chocolate, and white chips in a double-boiler over very low heat, stirring constantly until melted. Remove from heat.
5. In a large mixing bowl, beat eggs and sugar on high speed until light and fluffy, about 3 minutes. Add melted chocolate mixture, beating until combined.
6. Beat reserved flour mixture into melted chocolate mixture. Whisk in Guinness stout beer and vanilla. The batter will seem a bit thin. Fold in semisweet chocolate chips.
7. Pour into prepared baking pan. Bake 20 to 25 minutes until a toothpick inserted in the center comes out almost clean.
8. Let brownies cool, uncovered, to room temperature. Dust with confectioners' sugar before serving.
*Note: When I heated the beer to reduce it, it took much longer than 15 minutes and started smelling unappetizing. I stopped at that point, measured out 1 1/4 cups and tossed the rest.