You know those candies that come out over the holidays? That's right, I'm talking about chocolate covered cherries! Sweet maraschino cherries covered in fondant and enveloped in chocolate. I've even seen a blueberry version, too. This is such a classic holiday candy for me. I love going to stores and seeing the boxes everywhere. Biting into one is a messy, gooey, sweet treat. I could make myself sick eating an entire carton! That's why I couldn't wait to make these Chocolate-Covered Cherry Cookies. They are just like the candy, but in cookie form and not quite as messy.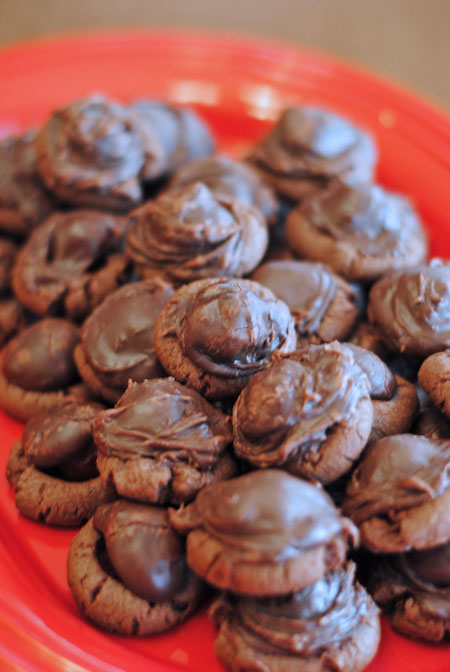 So, how's it taste?
I'll be the first to tell you that these cookies aren't quick to make. We made these first on cookie baking day this year and I'm glad we did because there are quite a few steps. However, the final taste is so worth it. A not-too-sweet chocolate cookie covered in chocolate fudge and hidden inside is one cherry. It tastes just like the candy! The cookie is soft and the fudge just melts in your mouth. They were a favorite this year at work, too.
It may seem a little odd to bake the cookies after you put the frosting on top, but you're reading that right! It doesn't spread too much, so you'll have to make sure you completely cover the cherry before you bake them. Try to work fast because the frosting will thicken as it cools and it makes it harder to cover each cherry. I got about 43 cookies out of this recipe, ended up dropping one, and had just enough frosting for 42 cookies.
Other goodies (coming soon on the blog!) from Cookie Baking Day 2014:
Mocha Toffee Chocolate Cookies
M&M Cookies
White Chip Cran-Pistachio Cookies
Glazed Hermit Cookies
Cream Cheese Spritz Cookies
Mint Chocolate Chip Cookies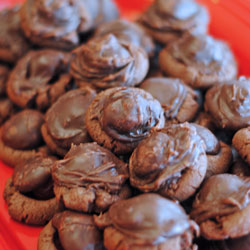 Yield: about 4 dozen
Prep Time: 30 min
Cook Time: 10 min (per batch)
Chocolate-Covered Cherry Cookies
Ingredients:
Cookies
1/2 cup butter
1 cup sugar
1 egg
1 1/2 tsp. vanilla extract
1 1/2 cups all-purpose flour
1/2 cup unsweetened cocoa powder
1/4 tsp. salt
1/4 tsp. baking powder
1/4 tsp. baking soda
48 maraschino cherries, blotted dry
Frosting
1 cup (6 oz.) semisweet chocolate chips
1/2 cup sweetened condensed milk
1 to 3 tsp. maraschino cherry juice (I used 3)
Directions:
1. In a bowl, cream together butter and sugar until fluffy; beat in egg and vanilla. Combine the dry ingredients; gradually add to creamed mixture (batter will be very firm). Shape into 48 balls, about 1 inch round, and place on ungreased baking sheets. Push one cherry halfway into each ball. (I used a small melon baller to press an indent into the cookie first since the dough is so firm.)
2. For frosting, melt chocolate chips and milk in a small saucepan over low heat, stirring constantly. Remove from the heat; add cherry juice and stir until smooth. Spoon 1 teaspoon of frosting over each cherry, making sure to cover cherry completely. The frosting will spread a bit during baking, but not much, so make sure the cherries are covered before baking.
3. Bake at 350F for 10-12 minutes. Cool on wire racks.