Oh this recipe. This Pinterest recipe that I was so excited about. It looked so easy! Damn you, Pinterest! Of course I would pin a recipe called Chocolate Crack. What's not to love? Chocolate, peanut butter, caramel, and…potato chips! Heck yeah! I've told you before how I'll get into a vicious snacking cycle where I eat something sweet, then have to have something salty, then have to have something sweet. It's never ending. That's why I gravitate to eats that have a combo of both. I also picked this treat because it looked so easy. Melt a bunch of stuff, stir in potato chips, pour it in a pan, and done. Yeah, not so much. However, I'm happy to report that what I thought would be a huge Pinterest fail turned out to be quite tasty and definitely lived up to the Chocolate Crack name.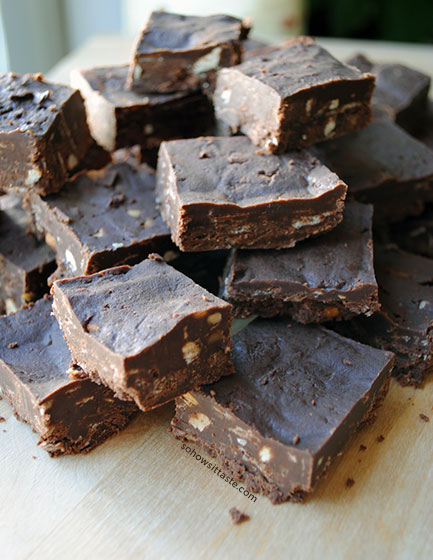 So, how's it taste?
It turned out delicious actually. Which I was so happy it could be salvaged because the full recipe is a @#%& ton of chocolate and it would have broken my heart to put that much chocolate in the trash. If you make this, I'd start with half or even a fourth of the recipe to see how you like it first. It's full of chocolate and beautiful crunches of potato chips. The chips surprisingly stay crunchy for several days. I added an extra 1/2 cup of chips to my version and still felt like there could be more. You get the crunch, but not the salty goodness. I also used semisweet instead of milk chocolate as it's a lot of chocolate and milk would have been way too sweet I think.
My frustration with this recipe was that it didn't mention that the peanut butter used was natural. There's a big ol' difference between natural and regular. I will take part of the blame in that I used crunchy instead of creamy, but that shouldn't have made a difference. The original directions tell you to "melt" the peanut butter first and then add caramels. Well, natural peanut butter is more oily so I'm sure that works fine, but it does not work with regular crunchy. I would suggest melting the caramel squares in the heavy cream first (and I've adjusted the directions as so). Then add your peanut butter. Since my peanut butter mixture was thick (thanks to heating it and waiting for it to melt), the caramels didn't fully melt and I decided to completely combine my peanut butter mixture with the chocolate/potato chip mixture. There was no way that thick mess of PB was going to dollop and swirl over anything. Of course doing that meant that now my chocolate was a thick mess. Not the pourable, perfect goodness from Pinterest. Luckily, it still worked. I pressed out the chocolate mixture onto the baking sheet. Be careful doing this if it's still hot! It set up great and I was able to cut it into squares as if all was right with the world. This candy is best the day it's made and is quite addictive with the creamy chocolate and crunchy chips. It gets crumbly on day two, but still tastes good. I suggest making this the day you want to serve it…and be ready for an arm workout. Let me know how yours turns out!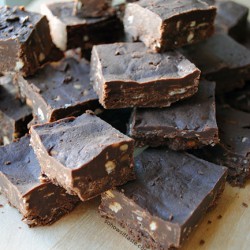 Chocolate Crack
Ingredients:
2 1/2 cups regular potato chips, crushed (such as Lay's original)
22 squares of caramel
2 tbsp. heavy cream
1 1/2 cups crunchy peanut butter (creamy is ok)
3 tbsp. water
60 oz. semisweet chocolate chips
Directions:
1. Line a 17.25 x 11.5 x 1-in. cookie sheet with parchment paper. (If you don't have one that large, use multiple smaller cookie sheets.) Set aside.
2. Pour potato chips into a large zip-top bag. Seal the bag and crush chips with your hands. It takes about 3/4 of the bag to achieve 2 1/2 cups crushed. If you get more, use it! Set aside.
3. In a medium saucepan over low heat, melt the caramels with the heavy cream until smooth. Add the peanut butter and stir until combined. Set aside.
4. Using a double boiler, melt the chocolate over low heat. You may have to do this in batches since it's a large amount of chocolate. Once the chocolate is melted and smooth, fold in the potato chips. At this point, you can either pour the chocolate/potato chips mixture onto your baking sheet and swirl in the peanut butter mixture by dolloping on top of the chocolate or you can mix the peanut butter mixture entirely into the chocolate mixture and then place onto your baking sheet. If you choose to mix all the ingredients, it will be very thick and you'll have to press out the mixture onto your baking sheet.
5. Let cool on baking sheet in the refrigerator for 30 minutes. Remove from fridge and cut into bars.