I brought these Lemon Linzer Bars to a cookout a few weekends ago when it was blazin' hot outside. When there's going to be lots of food and lots of sunshine, I opt for desserts that aren't too heavy or rich. I also choose desserts that I can prep the day before so I'm not rushing around last minute.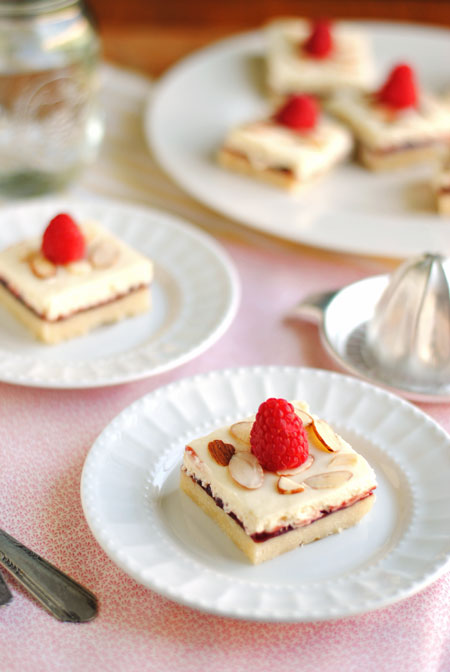 So, how's it taste?
I had a good feeling that a bar with a sugar cookie base, a layer of raspberry jam, and a layer of lemony cheesecake wouldn't taste too shabby! This dessert is so incredibly refreshing. It was the perfect follow-up to burgers and all the usual cookout sides.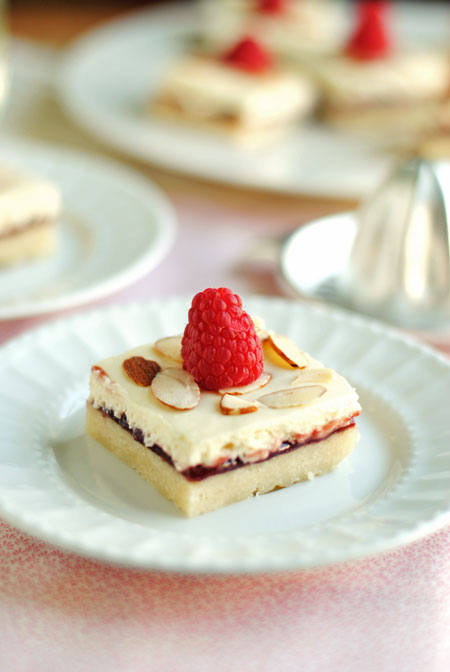 The sugar cookie base gets enhanced with a touch of almond extract and lemonade concentrate. Next time I'll use fresh lemon juice to amp it up a bit and to not be stuck with a container of frozen lemonade concentrate that I'll never drink. I think some bits of zest would look pretty, too.
If you've got leftover raspberry jam from making my Raspberry Crescent Twists, then this should be the next dessert on your list! That layer is sweet and tangy, and goes great with the light, fluffy, lemon cheesecake topping. It uses store-bought curd (which I'd never had before…gah homemade is so superior), but there's really no point in going to the trouble to make your own because you only need a small amount.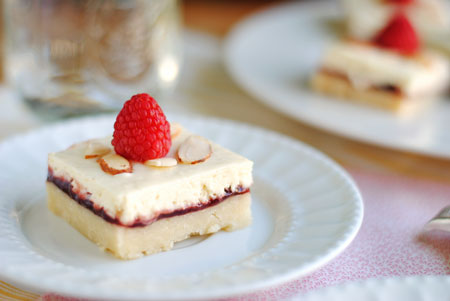 Crunchy sliced almonds and fresh raspberries complete each bar. These are so pretty and so delicious, I can't wait to make them again!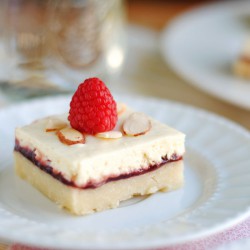 Yield: 24 servings
Prep Time: 20 min
Total Time: 5 hr 15 min
Lemon Linzer Bars
Ingredients:
Cookie Base
1 pouch (1 lb 1.5 oz) sugar cookie mix
1/3 cup butter, softened
2 oz. cream cheese, softened
4 1/2 tsp. frozen (thawed) lemonade concentrate (or fresh lemon juice)
3/4 tsp. almond extract
1 egg
Filling
2/3 cup seedless raspberry jam
1 package (8 oz.) cream cheese, softened
1/2 cup lemon curd (from 10- to 12-oz. jar)
2 cups frozen (thawed) whipped topping
Topping
1/3 cup sliced almonds, toasted
24 fresh raspberries
Directions:
1. Heat oven to 350F. Spray bottom and sides of 13x9-inch pan with cooking spray.
2. In large bowl, stir cookie base ingredients until soft dough forms. Spread dough in bottom of pan.
3. Bake 20 to 23 minutes or until golden brown. Cool completely, about 30 minutes.
4. Spread raspberry jam over cooled base. In large bowl, beat cream cheese and lemon curd with electric mixer on medium speed until smooth. Fold in whipped topping. Drop lemon mixture by teaspoonfuls over jam layer; spread gently and evenly over jam.
5. Sprinkle toasted almonds over top. Refrigerate at least 4 hours or overnight. For bars, cut into 6 rows by 4 rows. To serve, top each bar with 1 raspberry, gently pressing into lemon mixture. Store covered in refrigerator.
1 bar: 230 calories, 11g fat, 30g carbs, 0g fiber, 2g protein