I loved the way the Cake Batter Chocolate Chip Cookies looked for Cookie Baking Day. So festive with the colored sprinkles and just so darn fun! You could really play around with the color of the sprinkles and make these for just about any occasion. Green, white, and red sprinkles would be really festive for the big day coming up soon!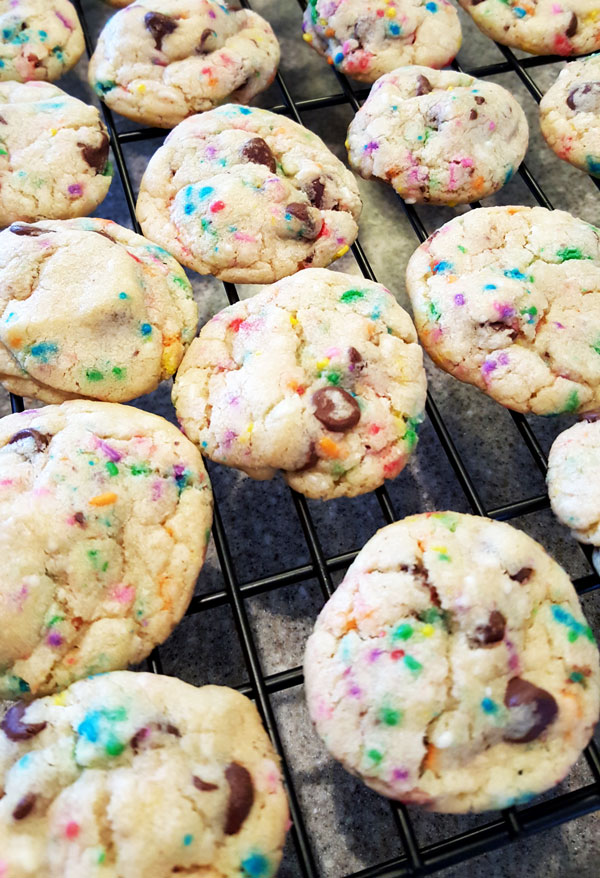 So, how's it taste?
I really wanted to like these cookies more, but I didn't. I ranked them second to last in our official cookie ranking system at work. However, don't be discouraged from making these because my coworker LOVED them and my mom's coworkers LOVED them.
For me, they're just too darn sweet. I almost used 1/2 white chips and 1/2 chocolate chips as the original recipe has, but I'm glad I didn't because they would be way too sweet. I do want to make these again to test a few theories though.
The first one is that we used Pillsbury brand cake mix. Nothing against them, but Duncan Hines is the best. We could detect a slight fakey, chemical cake mix taste. Which I'll be the first to defend store box cake mix, so that's why I'm wondering if it was the brand and flavor we used. We used white cake mix and I really don't like white cake. I'm curious if using yellow cake would improve the taste for me.
Find the recipe for these Cake Batter Chocolate Chip Cookies at Sally's Baking Addiction. Definitely heed her instructions on using chilled dough. Once the dough gets warm, the cookies really spread when baked. If you bake these cookies, I'd love to hear your results including what brand of cake mix you use and what flavor. Let's call it research and eat cookies all day! 🙂
Other goodies from Cookie Baking Day 2015:
Cream Cheese Spritz Cookies
Mint Chocolate Chip Cookies
Pumpkin Pecan Spice Cookies
Reese's Pieces Chocolate Cookies
Holiday Pantry Cookies (recipe coming soon!)