I told you I wasn't finished with eggnog! First I brought you Mini Eggnog Donut Muffins. Now I'm sharing Baked Eggnog Donuts. Yes, baked! I got this donut pan for Christmas two years ago and I love it. I won't turn my nose up at a fried donut, but they're not much fun to make at home. Baked donuts are…and since they're baked, they're pretty much health food right?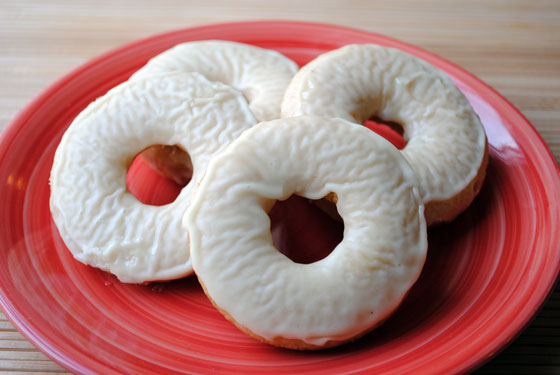 So, how's it taste?
They were great. The donut isn't too sweet, so it's perfect with the sugary glaze. I will caution you to be careful with the donut pan. It's very easy to overfill and my first batch made huge donuts that didn't even have a hole because they overflowed so much. It's tempting to fill the entire cavity, but you want to do about half instead. Excuse my wrinkly donuts in the picture. I took them the next day after baking and the glaze wasn't so smooth anymore. However, the donuts were still delicious. Since they're baked, it's like eating cake…and that's never a bad thing, with or without wrinkles.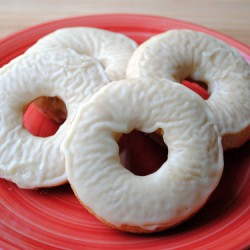 Baked Eggnog Donuts
Ingredients:
Donuts
2 cup flour
3/4 cup sugar
1 tsp. baking powder
1 tsp. baking soda
1 tsp. salt
1/2 tsp. nutmeg
1 egg
3/4 cup eggnog
1/4 cup applesauce
Glaze
1 1/2 cup powdered sugar
3 tbsp. eggnog
1 tsp. rum flavoring
Directions:
1. Preheat oven to 325F. Using a mixer, mix flour, sugar, baking soda, baking powder, salt, and nutmeg. Beat in egg, eggnog, and applesauce.
2. Lightly spray a donut pan with non-stick cooking spray. Spoon batter into a large plastic bag that zips. Snip the corner and squeeze batter into the donut pan evenly. Fill about half full as the donuts will rise.
3. Bake for 10-12 minutes, until donut springs back when lightly pressed. Remove from pan immediately and allow to cool completely on a wire rack.
4. For the glaze, combine powdered sugar with eggnog and rum flavoring for about 2-3 minutes in a mixer. Dip tops of each donut into glaze. You may want to dip twice for thicker consistency.