I always end up with too many bananas that are very, very ripe. I personally prefer bananas with a few brown spots, but once they start browning, they quickly go. As much as I love banana bread, I wanted something new to make. I had three bananas that weren't going to last another day, so I Googled "what to do with overripe bananas." Luckily I'm not the only one who wasn't in the mood for banana bread. So many good suggestions out there, but I chose Banana Coconut Crunch Muffins. Absolutely no regrets with that decision. I'm almost glad I had too many ripe bananas!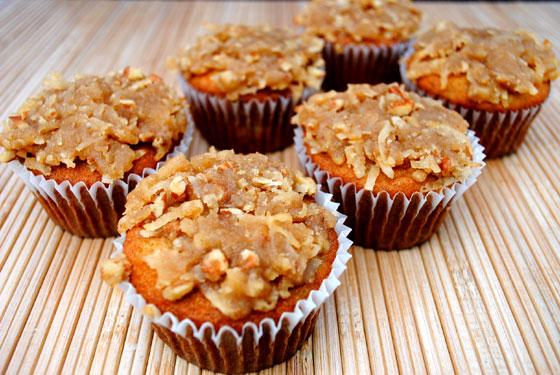 So, how's it taste?
I'm not sure why these are muffins because they taste so light and moist, just like cake. I liked how the base didn't have anything but wonderful banana flavor. There's a touch of cinnamon in the batter, but I could barely taste it. Next time, I may up that a bit. The topping gets added after the muffins have almost completely cooked. And boy is the topping rich! But it's a great balance to the light banana muffin underneath. Once the topping has cooked, let the muffins set and that's how you get the crunch. The brown sugar and butter hardens mixed with the pecans and coconut. They are a bit crumbly to eat, but what an experience! I almost want to rename them cupcakes instead of muffins, but as muffins it's perfectly ok to eat them for breakfast. You know, because I've never had a cupcake for breakfast. 😉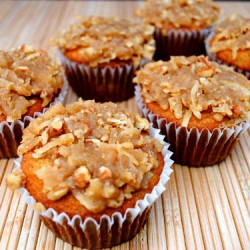 Banana Coconut Crunch Muffins
Ingredients:
Muffins
1/2 cup butter (1 stick), room temperature
1 cup granulated sugar
2 eggs
1 tsp. vanilla
2 tbsp. buttermilk
2 large bananas, mashed
1 1/4 cups flour
1 tsp. baking soda
1 tsp. baking powder
1/4 tsp. cinnamon
Topping
3/4 cup brown sugar, packed
3/4 cup coconut, shredded
1/4 cup pecans, chopped (optional)
4 tbsp. butter, room temperature
1 tbsp. cream
Directions:
1. Preheat oven to 350°.
2. Line 18 muffin cups with paper liners (or grease and flour 18 muffin cups).
3. In a small bowl, sift or stir together the flour, baking soda, baking powder and cinnamon. Set aside.
4. In a large mixing bowl, cream the butter for one minute. Add sugar and mix for 30 seconds. Beat in the eggs, vanilla, buttermilk, and bananas. Mix until combined.
5. Add the flour mixture to the banana mixture. Mix until combined, making sure to scrape down sides of bowl.
6. Spoon the batter into 18 muffin cups.
7. Bake for 16 - 18 minutes, until muffins are golden brown and a toothpick comes out clean when inserted in the middle of a muffin.
8. While muffins are cooking, prepare topping. In a medium bowl, mix the brown sugar, coconut, pecans, butter and cream together. I mix the ingredients with my hands to make sure that the topping is an even consistency. A mixer works just as well.
9. Remove muffins. Keep oven on, and spread topping over hot muffins. Place muffins back in the oven for 3 minutes (to cook the topping).
10. Remove muffins, and with back of spoon, spread the topping to edges (if topping is not already at edges).
11. Let cool 30 minutes, giving the icing a chance to harden.