My reign of stinginess is over. I got this recipe for granola from my boss and it has ruled my breakfast for months. I teased about it back in April on instagram…twice. Shame on me for just now sharing it. It's the first time I've ever made my own granola and what a hit! I've actually never even purchased granola, as it never appealed to me, but my boss was eating it in a meeting one morning with blueberries and Greek yogurt and I was all about it!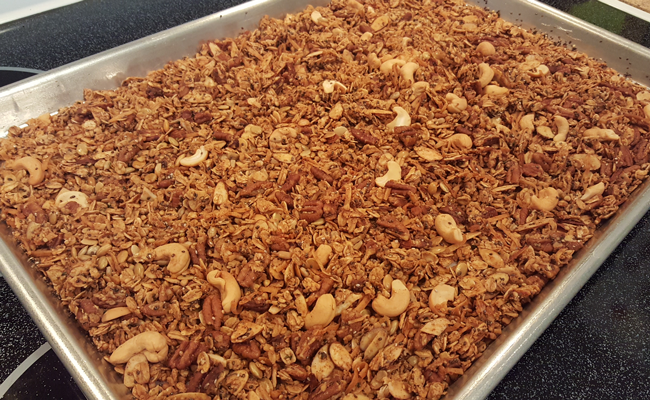 I've tweaked her recipe a bit to my liking and you can play around with the ingredients as well. In the Fall it would be great with pumpkin pie spice. Not a fan of cashews? Swap in walnuts or add more pecans. It's really easy to change it up to your liking or what's in your pantry.
I also halved the original recipe. A half recipe lasts me almost two weeks, but if you're making this for more people, it's easily doubled. What's great about this recipe is that it's real ingredients and not very sweet. Hence me renaming it Not-Too-Sweet Granola. It's tasty on its own, but it's the bee's knees with yogurt and fruit.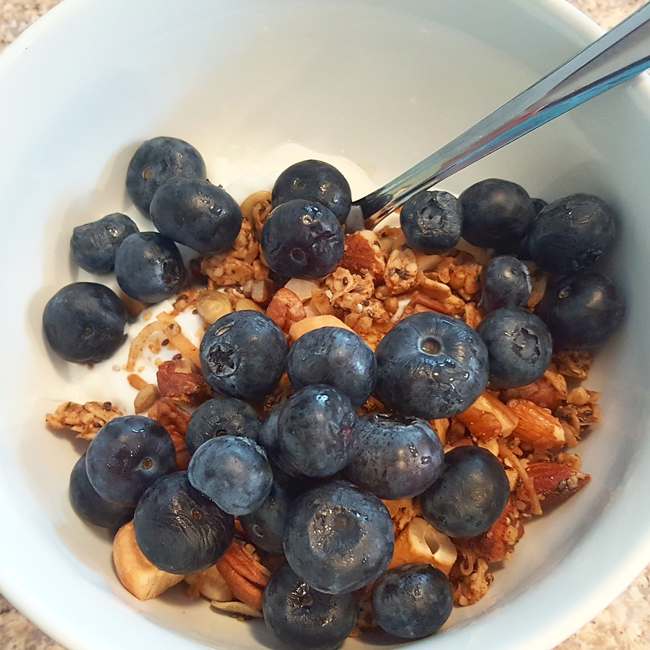 The yogurt adds creaminess and tang, while the fruit adds natural sweetness. Sweet, tangy, crunchy, creamy…it hits on all the feels and that's just what you need to start any morning right!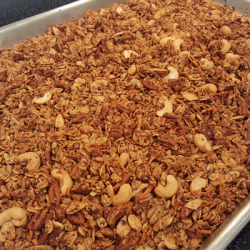 Yield: about 3 cups
Cook Time: 45 min
Not-Too-Sweet Granola
Crunchy, nutty granola that's not too sweet. Perfect with Greek yogurt and fresh blueberries.
Ingredients:
1 3/4 cups old-fashioned (not quick-cooking) rolled oats
3/4 cup quinoa flakes* (hot cereal-type)
3/4 cup raw pecan pieces
1/2 cup cashew pieces
1/2 cup raw slivered almonds
1/4 cup pepitas (pumpkin seeds)
1/8 cup sunflower seeds
1/4 cup nonfat dry milk powder
2 tsp. ground cinnamon
1/2 tsp. table salt
1/8 cup packed light brown sugar
1/4 cup maple syrup
1/4 cup water
2 tbsp. vegetable oil
1 tsp. pure vanilla extract
1/4 tsp. almond extract
*Note: I've subbed Qia for the quinoa flakes, as well as a combo of chia seeds and flax seeds. Qia worked well, but it's expensive (as are the quinoa flakes). I usually do the chia seed/flax seed combo.
Directions:
1. Spray a rimmed baking sheet with cooking spray.
2. In a large bowl, mix oats, quinoa flakes, nuts, seeds, milk powder, cinnamon, and salt.
3. In a small saucepan, combine brown sugar, maple syrup, and water. Warm over medium heat, stirring until the sugar is melted. Remove from the heat and stir in the oil and extracts.
4. Pour over the oat mixture. Stir with a rubber spatula until well mixed. If dry, mix in up to an additional 1/8 cup water. Let sit 15 minutes to hydrate and soften the ingredients. Stir again before putting in the oven. Meanwhile, preheat oven to 300F.
5. Spread the mixture in even layer on rimmed baking sheet. Bake for 20 minutes and stir. Bake another 15 mins and stir again. Continue baking until oats are golden brown and nuts look well toasted, about 10 minutes, keeping a close eye to ensure granola doesn't over-brown. Oats may feel soft, but will crisp as they cool.
6. Let cool completely on the baking sheet. When cooled, break into pieces, and store in air-tight containers. Keeps for up to 2 weeks.
Adapted from Donna Rosenstiel's Standard Granola Recipe
This post contains affiliate links.