I made these Mini Pancake Bites over the weekend and I had such good intentions of freezing them for quick breakfasts later on in the week. Somehow about half of them kept disappearing! They are addictive I tell you…and dangerous. They're so tiny, you think you can just keep eating and eating and eating. Deceptive little bundles of pancakey goodness stuffed with whatever you can dream up.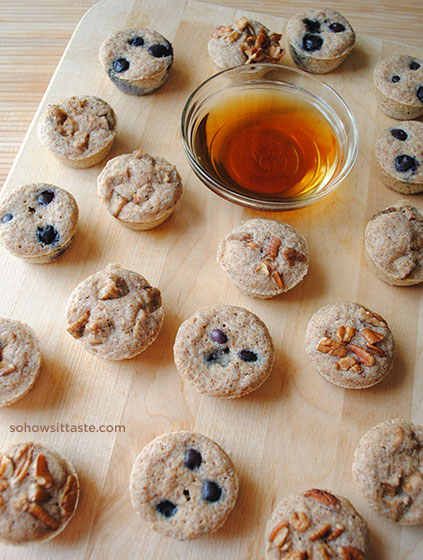 So, how's it taste?
I was totally into them obviously. I'm too embarrassed to tell you how many I ate. This idea came from Pinterest (don't they all), but when I was ready to make them the directions were a little skimpy. Way to go Gwaltney. So in turn, my directions aren't as specific as I'd like either. I used my Sunday Morning pancake mix from my first Batch Nashville (it's multi-grain, so that's why the color is odd) and it didn't provide how many servings were in a recipe. I just mixed up a batch and gathered my toppings. I ended up with about 30 mini pancakes. Of course, yours will vary depending on how much pancake batter you use.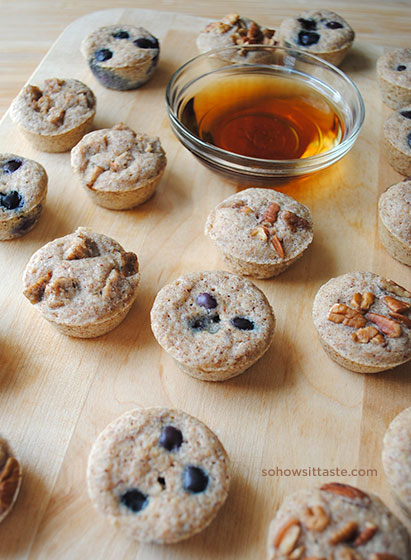 The topping possibilities are endless. I found that I really loved the pecan and the turkey sausage. A little sweet and savory is the best. Bacon would be fantastic or any kind of chocolate chips. I used frozen blueberries and found that they left the centers a little soggy, so they could've used a bit more cooking time. It didn't stop me from inhaling them though! Great to keep on hand when you want a quick breakfast…just make extra in case yours perform a disappearing act as well.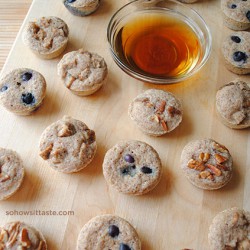 Mini Pancake Bites
Ingredients:
1 recipe of your favorite pancake mix
*toppings: sausage, pecans, blueberries, chocolate chips, bacon, etc.
syrup
*Note: If using meat, make sure it's fully cooked before adding to the pancake batter.
Directions:
1. Preheat oven to 350F. Spray mini muffin tins with cooking spray.
2. In a large bowl, prepare your favorite pancake mix according to recipe.
3. If you're doing one topping, mix it in with the pancake mix; then fill the muffin tins. If you're doing multiple toppings, sprinkle them on top after you fill the muffin tins with the pancake mix.
4. Bake for 8-10 minutes until a toothpick inserted in the middle of one pancake comes out clean. Frozen fruit toppings will need a bit more time. Baking time can also vary depending on your pancake mix.
5. Let mini pancakes set in tins for a few minutes. Remove from tins and serve with syrup.