Pork Chops with Apple-Maple Glaze was another awesome find from my grilling weekend with my mom. I love, love, love pork chops on the grill. They're so good with nothing more than salt and pepper, but this version adds a bit of sweet. I'm sure you've heard of, if not tasted, several dishes where apple and pork are paired together. Pork goes so well with sweet and the bit of maple is a nice touch to round out the trio.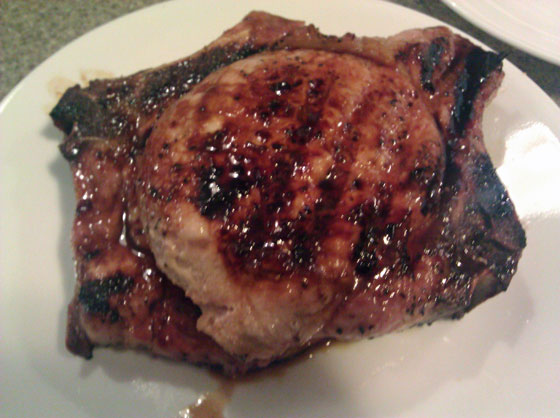 So, how's it taste?
First, please excuse this horrid picture. It's from my phone and I only snapped this one pic because I was practically drooling once these chops came off the grill. Look at how juicy they are! Bone-in is definitely the way to go when grilling pork chops. I believe they make them juicier and tastier. These chops were so tender and I liked the bit of garlic in the background from the garlic pepper blend. I thought these pork chops might be a bit too sweet, but they weren't. Actually I wish we had saved some of the glaze and used it to drizzle over the finished pork chop. They were very good with just the glaze from grilling, but I really wanted to taste a punch of apple and maple. I'm a big fan of condiments, so having extra glaze to dip my pork chop in would have been perfect!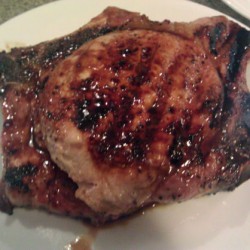 Pork Chops with Apple-Maple Glaze
Ingredients:
1/4 cup real maple syrup
1/4 cup apple butter
1/2 tsp. ground mustard
4 pork bone-in loin chops, 1/2 to 3/4 inch thick, trimmed of fat
1/2 tsp. garlic pepper blend
1/4 tsp. salt
Directions:
1. Heat coals or gas grill for direct heat. In 1-quart saucepan, mix maple syrup, apple butter, and mustard. Cook over low heat about 1 minute, stirring occasionally, until well blended.
2. Sprinkle pork chops with garlic pepper and salt. Place pork on grill. Brush with maple mixture. Cover and grill over medium heat 10 to 12 minutes, turning and brushing with maple mixture 2 or 3 times, until no longer pink when cut near bone. Discard any remaining maple mixture.