I created this salad on accident. I intended to make the balsamic chicken and top it with feta and tomatoes and have that be my main dish, but somehow ended up slicing the chicken and making Balsamic Chicken, Feta, & Strawberry Salad instead. I love it when a plan comes together! The strawberries go beautifully with balsamic and with chicken, this ends up being quite a filling salad to have as your meal.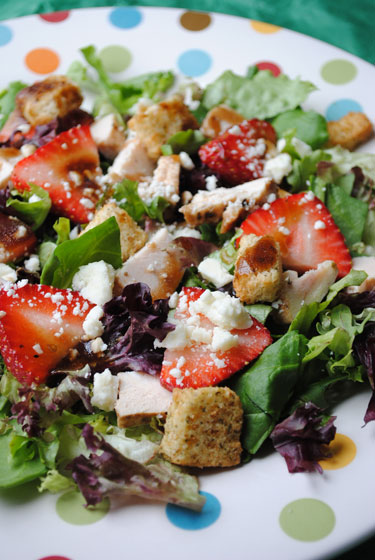 So, how's it taste?
I'm a big fan! My friend Denise gave me a ton of fresh strawberries and I put them to good use having this salad several times. They add a juicy freshness to the salad. The chicken is delicious and matches perfectly since it's cooked in the balsamic vinaigrette. It's lightly seasoned and doesn't overpower the rest of the ingredients. I added seasoned croutons for crunch (and I love them…could eat the entire bag in one sitting). The feta brings a nice tang, but not too much since it's the reduced-fat version. I can't eat a salad without some kind of cheese. If strawberries in a salad isn't your thing, try substituting tomatoes. I made this salad doing just that using chopped Roma tomatoes and it was pretty fabulous as well.
Keep in mind when you're counting the nutritional value, it will vary depending on the brand of ingredients you use, especially the dressing and croutons.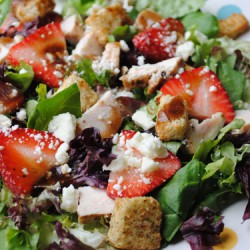 Balsamic Chicken, Feta, & Strawberry Salad
Ingredients:
Balsamic Chicken
4 boneless chicken breast halves (1 1/4 lb.)
2 tbsp. balsamic vinaigrette dressing
1 tsp. Italian seasoning
1/4 tsp. garlic pepper
Salad
1 package (5 oz.) Spring Mix lettuce or fresh spinach (or any mix of lettuce)
1/2 cup seasoned croutons
1/2 cup reduced-fat feta
4 cups large strawberries, about 16
balsamic chicken
1/2 cup balsamic vinaigrette dressing
Directions:
1. For the balsamic chicken, set oven to broil. Brush both sides of chicken breasts with dressing. Sprinkle both sides with Italian seasoning and garlic pepper. Place on rack in broiler pan.
2. Broil with tops 4 inches from heat about 10 minutes, turning once, until chicken is no longer pink when centers of the thickest pieces are cut.
3. Let chicken cool enough to touch. Slice it into bite-sized pieces.
4. Place all salad ingredients into a large bowl and toss. Divide into 4 servings.