I'm in love with summer. It seems like through the winter months, I forget how awesome it is to be outdoors with shorts, t-shirts, and flip flops. And let's not forget about the food. Oh the food! Summer food is always a burger for me. Yeah, you can get them year round, but there's something about a big, juicy burger during those warmer months. Bacon and blue cheese are among the best of burger toppers. This Bacon Blue Burger takes it one step further with a blue cheese sauce. It's messy and insanely good, the way I like it!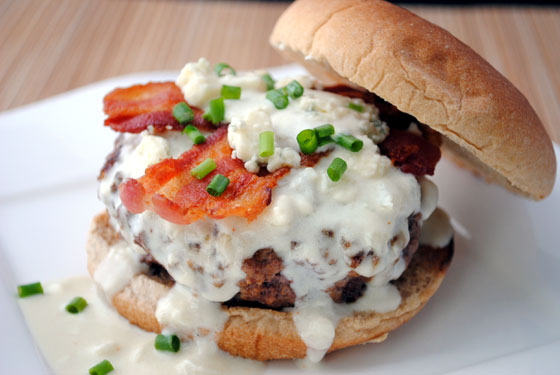 So, how's it taste?
I really wish I could send a burger to everyone that reads this post. My words are not going to come close to doing it justice. Simply adding salt and pepper to your burger to cook it is genius. It really lets the beef shine and helps it to not get lost with all the toppings, and I'm big on burger toppings. Of course bacon tastes great on a burger, and the addition of blue cheese is a burger-eater's dream. What I like best about this burger is the blue cheese sauce. Sure, you could stop after the bacon and blue cheese crumbles and have a great burger, but why not make it fantastic? The sauce takes no time to prepare and is outstanding. I dipped crackers in it, I dipped fries in it, I smothered my burger in it, and then dipped it too! You get the picture? It's a bechamel sauce with finely chopped onions, a bit of cayenne, and chunks of blue cheese. I could gush over it all day, but don't take my word for it. Try this burger for yourself and let me know how much you swooned over it, too!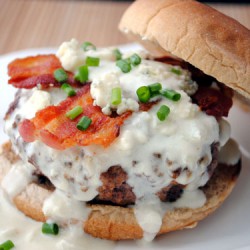 Bacon Blue Burger
Ingredients:
Blue Cheese Sauce
2 cups whole milk
2 tbsp. unsalted butter
1 small Spanish onion, finely chopped
2 tbsp. all-purpose flour
1/4 tsp. Kosher salt
Pinch of cayenne pepper
4 oz. crumbled blue cheese
Burgers
8 slices bacon, 1/4-inch thick each
1 1/2 lbs. ground chuck
Kosher salt and freshly ground black pepper
2 oz. blue cheese crumbles
2 tbsp. finely chopped fresh chives
4 hamburger buns, split and toasted, if desired
Directions:
1. For the sauce, pour the milk into a small saucepan and bring to a simmer over low heat.
2. Heat the butter in a small skillet over medium heat. Add the onion and cook until soft; about 5 minutes. Stir in the flour; cook for 1 minute. Slowly whisk in about half of the warm milk. Pour the onion/milk mixture back into the remaining warm milk. Whisk until the mixture thickens; about 2 minutes. Season with the salt and cayenne; continue cooking, whisking occasionally, for 5 minutes.
3. Remove from the heat and stir in the cheese. If the sauce is too thick, thin with a bit of milk.
4. For the burgers, cook the bacon in a large skillet over medium heat until golden brown and crisp, 3 to 4 minutes per side. Remove to a plate lined with paper towels. Reserve 1 1/2 tablespoons of the bacon grease in the skillet.
5. Divide the beef into 4 equal portions. Form each portion loosely into a 3/4-inch-thick burger and make a deep depression in the center with your thumb. Season both sides of each burger with salt and pepper.
6. Cook the burgers, using the bacon grease, until golden brown and slightly charred on the first side, about 3 minutes. Flip burgers and cook until golden brown and slightly charred on the second side, 5 minutes for medium, 6 minutes for medium-well, and 7 minutes for well.
7. Place the burgers on the bun bottoms, top each with desired amount of blue cheese sauce, 2 slices of bacon, and crumbled blue cheese. Sprinkle with chives. Cover with bun tops and serve immediately.