I don't make a lot of Thai food at home, but I should. I love it and there's so many great places in Nashville to enjoy it, so I guess I never think about making it myself. I love the combination of coconut milk, curry paste, fish sauce, and peanut butter. Ok, that sounds super gross when you break down the ingredients, ha! But seriously, the sauces get me every time. So good that I want to turn the plate up and drink it! I was thrilled when I came across Pinch of Yum's latest ebook Everyday Healthy. I pre-ordered it and couldn't wait for the release. The recipe I couldn't wait to make was Lindsay's take on Pra Ram Long Song. The sauce in the picture had me wanting to lick the computer screen and I loved that it was vegetarian. It's basically veggies and rice covered in the most amazing creamy Thai coconut lime sauce, and it fit in my calorie budget…score!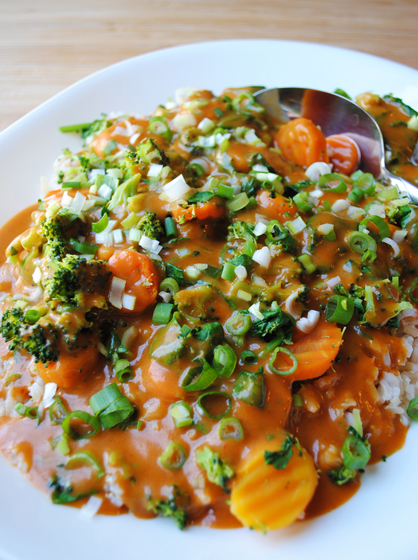 So, how's it taste?
First, this dish was stupid easy to make. Cook your rice, steam your veggies, make the sauce. I whipped this up for lunch yesterday in no time. The sauce is what makes it, of course. It starts with light coconut milk, then instead of peanut butter I used almond butter, plus red curry paste for some heat. Next is fish sauce, lime juice, brown sugar, and garlic. I left out the peanuts to save some calories, but the crunch would have been nice. Although completely decadent, I felt the sauce could be a tad less sweet, so next time I'll reduce the brown sugar and save even more calories! Lastly, the dish gets sprinkled with scallions. The contrast between sweet and savory was awesome. I was a little worried that it would be weird over the broccoli, carrots, and spinach, but it totally works! The sauce to veggies/rice ratio is too much though (and this is coming from a sauce junkie). I'm going to steam more veggies and add them to my leftovers to spread the sauce love around. This will definitely be a meal that makes it in my rotation several times.
You can find the recipe for this Pra Ram Long Song in the Everyday Healthy ebook. I can't wait to try more recipes like Roasted Chickpea Salad, Tarragon Almond Chicken Salad, and Spicy Fish tacos. It comes with a nutrition and adaptation guide where the nutrition information is included for every recipe, plus ways to change it up if you need vegetarian, gluten-free, or dairy-free. Another cool part is the Meal Planning guide. It includes a really neat way to plan out your meals and stay organized when you're eating healthy. The nerdy list-maker/organizer in me loves this part! There's also an option to get just the vegetarian recipes, or just the ebook without the meal planning section. Happy healthy eating!
(Psst…My Road to Getting Fit post details what I'm doing to get healthy!)
This post contains affiliate links.