I didn't always love a runny egg. It's a taste that's grown on me through the years and now I'm addicted. I love them with breakfast (or dinner!) where I sop my toast in that gooey yellow center, or over one the best sandwiches on the planet. So when I saw this Linguine with Asparagus and Poached Egg, I knew I'd hit the jackpot. That beautiful runny egg yolk becomes the sauce over linguine and asparagus. Add Parmesan cheese and it's unbelievable. And guess what? It's a healthy, low calorie recipe! Only 300 calories per serving.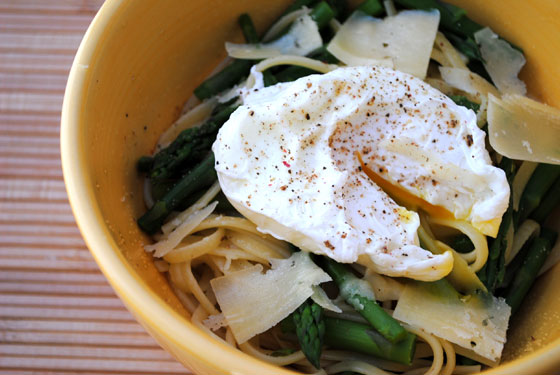 So, how's it taste?
It was delicious. The linguine is perfectly cooked and the asparagus still has a bit of a crunch. The shaved Parmesan adds this fantastic salty nuttiness that rounds out the entire dish. Break the egg and the yolk mixes with the hot pasta and the cheese starts to melt and it forms this sauce that is so simple, but irresistable. I couldn't get enough of it! What I love about this recipe is you can make it in single servings. It takes minutes to make this and each bowl is a fresh meal!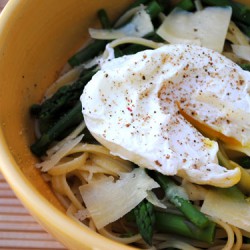 Linguine with Asparagus and Poached Egg
Ingredients:
8 oz. uncooked linguine
2 bunches medium asparagus, tough ends removed (about 4 cups)
4 large eggs
Kosher salt and freshly ground pepper
2 tbsp. freshly shaved Parmesan
Directions:
1. Cut asparagus to bite-sized pieces.
2. Bring a large pot of salted water to a boil. Cook pasta according to instructions for al dente. Two minutes before pasta is done, add asparagus. Reserve 1 cup pasta water before draining pasta and asparagus. (I didn't use the reserved pasta water.)
3. Meanwhile while pasta water is boiling, set a saucepan to boil that is about two-thirds full of water. Add a dash of white vinegar. Crack an egg into a ramekin, small bowl, or soup ladle. Spin the boiling water to cool down the water before you drop in the egg. Carefully lower or drop the egg into the center of the whirlpool. Wait 3-4 minutes until cooked. Remove egg with a slotted spoon and set aside on a plate.
4. Drain pasta then add back to pot along with some of the reserved pasta water. (I didn't use any of the extra water.) Divide pasta among four bowls, top with poached egg, shaved cheese, fresh cracked pepper and salt if desired.
5. To eat, break the yolk and mix well with pasta, top with additional cheese if desired.