This is the kind of recipe that is so ridiculously easy, it makes you feel like you're not really cooking. But don't mistake that to mean this Creamy Artichoke Pasta isn't a special dish. Thin strands of angel hair pasta in a cream sauce with artichoke hearts makes for a comforting weeknight meal. And goes great with a glass of wine if I do say so myself!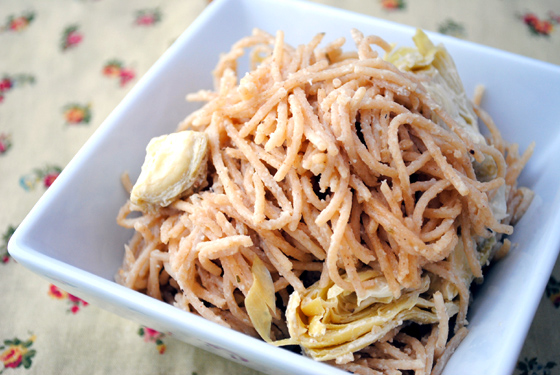 So, how's it taste?
I really like pastas in creamy, cheesy sauces. That's why when I had the chance to try the new Philadelphia Cooking Cremes, I chose this recipe first. It couldn't be easier to make. Boil the pasta and toss in a few ingredients and ta da! Dinner! I used the Savory Garlic flavor. The cooking cremes are basically flavored cream cheeses that are slightly thinner than a brick or tub of cream cheese. This one isn't shy about the garlic, which didn't bother me, but might be a bit overpowering for those that don't care for garlic as much. I liked the savory mixed with the tang of the artichokes. A great balance in taste and texture. I think this dish would also be really tasty with sauteed mushrooms. My only mistake was using whole wheat pasta. I had never cooked with it before and won't again. The texture is quite different from regular pasta and it absorbed so much more of the sauce than what I'm used to, which made for horribly thick leftovers. I can't wait to try this dish again with regular noodles so I can experience its true creamy richness!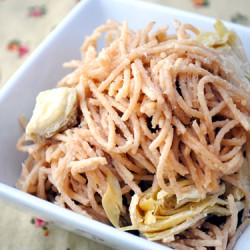 Creamy Artichoke Pasta
Ingredients:
1 lb. pasta, any variety (I recommend angel hair, not whole wheat)
1 tbsp. butter
1 can (14 oz.) small or medium artichoke hearts, drained, halved
Salt and pepper to taste
2 tsp. olive oil
1 tub (10 oz.) Philadelphia Savory Garlic Cooking Creme
1 cup grated Parmesan cheese
1 tsp. chopped fresh oregano
Directions:
1. Cook pasta in large saucepan as directed on package. Meanwhile, melt butter in small saucepan.
2. Add artichokes; cook and stir 3 to 4 min. or until heated through. Season with salt and pepper.
3. Drain pasta; return to pan. Add oil; toss to coat.
4. Add artichoke mixture and all remaining ingredients; cook and stir 2 to 3 min. or until heated through.
Note: Reserve some of the pasta water to add to the pasta dish if sauce is too thick.