I have such a weak spot for butter chicken. I adore this dish. It appeared on the blog about this same time two years ago. I swooned when I saw Slow Cooker Butter Chicken on Half Baked Harvest. I love letting my slow cooker do the work for me. It's so easy to throw your ingredients in and let it cook away while you do other things. This version has a lot of different ingredients from the first version I made, so I couldn't wait to taste how it would turn out.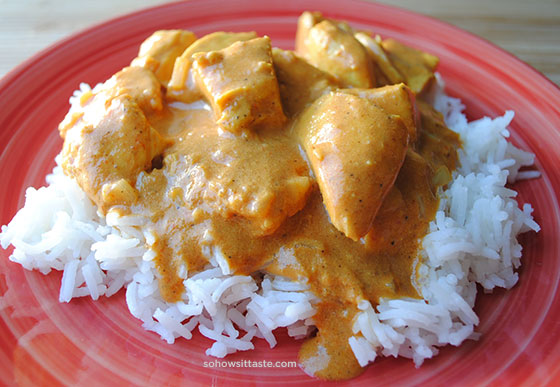 So, how's it taste?
I loved this version just as much as the first! This was so easy to put together. Mix the sauce, cut the chicken, chop an onion, and toss it all in the slow cooker. I can't begin to describe to you the incredible aroma going through my house. The sauce is amazing and has so much flavor. I was a little intimidated with the curry paste because I didn't want the heat level to be unbearable, but it's perfect. Even with the cayenne, it's not too spicy. It leaves just a nice warmth in your throat. You could definitely crank up the heat if that's your style though. I doubled the amount of chicken than the original recipe calls for and it's still a lot of sauce. You could add more chicken or get crazy with naan and sop it up! I vote for the latter. You'll also note the cooking time is not your usual for a slow cooker. You can't set this one in the morning, leave for work, and have it ready by dinner time. It only took 2 1/2 hours for mine to cook. The original recipe suggested 6-8 hours on low, but there's no way with chicken cut up that small. I set my timer for 4 hours, checked it at the 2 1/2 hour mark and it was perfectly cooked. Any more time would have resulted in some dry chicken. So depending on your slow cooker, I recommend testing it at the two hour mark and I would not suggest cooking this on high. What's great about this dish is that the leftovers are even better. I plan on eating my weight in this stuff and naan. I have no shame!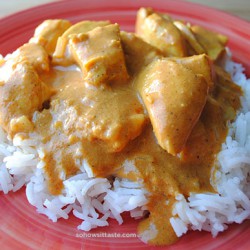 Slow Cooker Butter Chicken
Ingredients:
1 (13.5 oz.) can coconut milk
1/2 cup Greek yogurt
1/4 cup half and half (fat free is ok)
1 (6 oz.) can tomato paste
3 cloves garlic, minced
1 tbsp. ginger, very finely chopped
2 tsp. curry powder
2 tsp. Thai red curry paste
2 tsp. garam masala
1 tsp. turmeric
1 tsp. cayenne
1/4 tsp. salt
1/2 onion, finely chopped
2 lbs. boneless skinless chicken breast, cut into bite-sized pieces
2 tbsp. butter
basmati rice, for serving
naan, for serving
Directions:
1. In a large bowl, mix together the coconut milk, Greek yogurt, and half and half with a whisk. Whisk in the tomato paste, garlic, and ginger. Add the curry, curry paste, garam masala, turmeric, cayenne, and salt until combined. Set aside.
2. Spray a slow cooker with cooking spray and add the onion. Top the onion with chicken. Pour the liquid mixture over the chicken and stir just a bit so the chicken is completely covered. Cook on low for 2 1/2 hours; stirring twice during the cooking time. (Depending on your slow cooker, you may need to cook shorter or longer. Check your chicken for doneness at the two hour mark.)
3. When chicken is no longer pink in the center, it's done. Stir in butter until completely melted. Season to taste with salt. Serve over rice with naan.