I had low expectations for this dish. I didn't think it was going to be a mind-blowing meal and really picked it because it was so simple and I was in a hurry trying to decide what to make for dinner. I was also piling up a crazy amount of pasta in my pantry and needed to get rid of it. Pasta Ratatouille for dinner it is!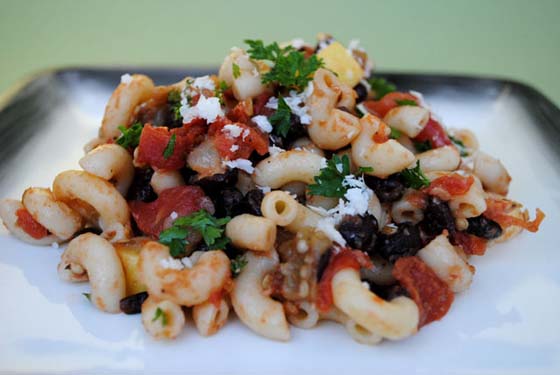 So, how's it taste?
Shockingly good! I thought everything sounded yummy together except for the black beans. What were they doing in this dish? I put them in anyway because I like them so much. I'm glad I did! This pasta was so fresh, so simple, so light. I couldn't believe how good it tasted. The only sauce is the juice from the canned tomatoes and it gets absorbed by the veggies and pasta. I substituted squash for the zucchini and peeled my eggplant. Instead of the 1 1/2 cups of frozen bell pepper and onion stir fry, I used 3/4 cup frozen chopped onions. I also used elbow macaroni. Any type of pasta would work. This recipe is easily altered to your liking. This is the perfect meal for a light lunch and the leftovers tasted great.
Here's a fun little video I put together to show you how easy it is to prepare this dish. Enjoy!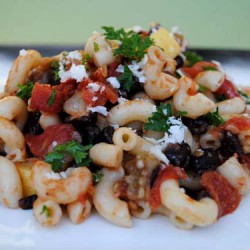 Pasta Ratatouille
Ingredients:
8 oz. (2 1/2 cups) uncooked fusilli or rotini (I used elbow)
2 tbsp. olive oil
1 1/2 cups frozen bell pepper and onion stir-fry
2 cups diced eggplant
1 small zucchini, diced
1/4 tsp. salt
1 (15 oz.) can black beans, drained, rinsed
1 (14.5 oz.) can diced tomatoes with Italian-style herbs, undrained
1 oz. (1/4 cup) shredded fresh Asiago or Parmesan cheese
2 tbsp. chopped fresh parsley
Directions:
1. Cook fusilli to desired doneness as directed on package. Drain; return to saucepan. Add 1 tablespoon of the oil; toss to coat.
2. Meanwhile, heat remaining tablespoon oil in large nonstick skillet over medium-high heat until hot. Add bell pepper and onion stir-fry; cook and stir 2 minutes. Add eggplant and zucchini; sprinkle with salt. Cook and stir 3 to 4 minutes or until zucchini is crisp-tender.
3. Stir in beans and tomatoes. Reduce heat to medium; cook until thoroughly heated, stirring occasionally. Stir in fusilli and 2 tablespoons of the cheese. Sprinkle with parsley and remaining 2 tablespoons cheese.