I never thought very much of curry. I always felt like it was a flavor used mostly in Indian cuisine (of which I don't care for) and that I wouldn't like it, much less cook with it. I have no idea what compelled me to make this Chickpea Curry with Cashews dish, but I'm glad I did. Nothing like venturing out into new culinary territory!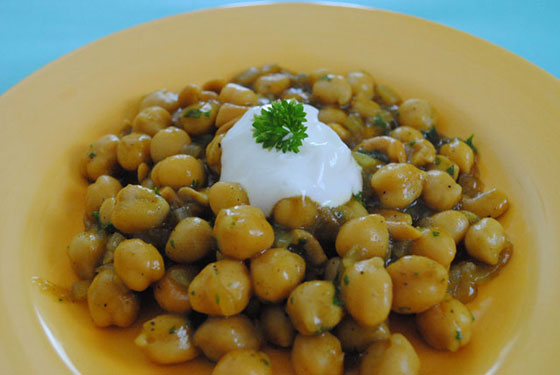 So, how's it taste?
So good that I had it three dinners in a row! I could not stop craving it. Granted my whole house smelled like curry, but I had no idea how buttery, nutty, and delicious it would be. I was worried about it being just awful, but when I opened the curry it smelled so good I couldn't wait to see how it would flavor the chickpeas and cashews. The curry flavor mellowed out just a bit after cooking, but it was the perfect seasoning to this dish. I was also a little apprehensive about the dollop of fat-free Greek yogurt on top, but I ended up swirling in more to my serving to make the dish creamy. I like Greek yogurt, but only with a bit of honey, kind of like flavored yogurt is delish, but plain yogurt is just gross. So this dish had the potential to be a disaster. Fortunately for me, it was the exact opposite. The Greek yogurt went so well with the curry. I used fresh parsley in place of the cilantro in my version. The recipe makes four side dish servings, but I piled my plate and made it a meal. You could also serve it over rice. Thumbs up to this one!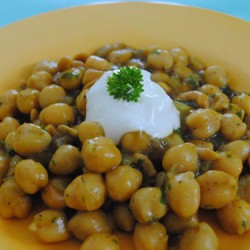 Chickpea Curry with Cashews
Ingredients:
1 tbsp. cornstarch
1 cup low-sodium vegetable broth, divided
2 tsp. canola oil
1/2 onion, chopped
2 tsp. curry powder
1/4 tsp. salt
1/4 tsp. pepper
1 can (15 oz.) no salt added chickpeas, rinsed and drained
1/2 cup unsalted cashews, coarsely chopped
1/4 cup chopped fresh cilantro
4 tbsp. fat free Greek-style yogurt
Directions:
1. Whisk cornstarch with enough of the broth to dissolve it. Set aside.
2. Combine oil, onion, curry powder, salt, and pepper in large skillet over medium heat. Cover and cook, stirring occasionally until the onion is softened.
3. Add remaining broth to pan along with cornstarch mixture. Cook until thickened. Add chickpeas and cashews. Simmer for 5 minutes. Stir in cilantro. Serve with a dollop of the yogurt.