I first heard about these Lentil Tacos at Food Blog Forum. And yes, I say "heard" because I was too busy running around to stop and watch Arnold Myint make them. Big mistake. Big, big mistake. But lucky for me, my friend Lesley over at Lesley Eats not only paid full attention, but swiped the leftovers and then made her own at home! She's a smart cookie that one. I couldn't wait to try this recipe myself. I had a bunch of cilantro leftover from making butter chicken (the recipe that converted me to a cilantro lover), and this was the perfect way to use it.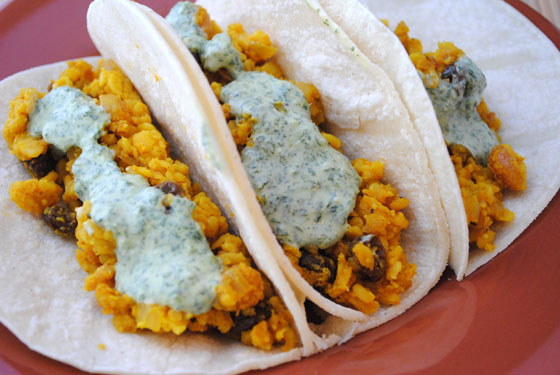 So, how's it taste?
It's fantastic! I was a bit worried when I tasted the lentil mixture and thought it didn't have enough flavor, but once you bring everything together and top with the cilantro yogurt, I couldn't stop stuffing my face. I used yellow lentils instead of black because I have a boatload of them in my pantry. I thought the yellow was quite pretty with the specks of dark raisins and the green yogurt sauce. The filling is a tad bit sweet, yet smoky from the cumin and floral with that lovely coriander. The filling really gets brightened up from the cilantro yogurt. This stuff tasted so good I wanted to bathe in it! The two go so well together, yet are so different I would never have thought to pair them. These tacos are hearty, which always surprises me from vegetarian dishes. I love it when that happens.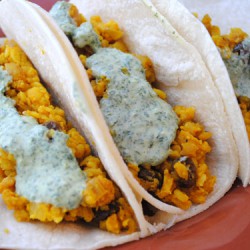 Lentil Tacos with Cilantro Yogurt
Ingredients:
Spice Blend
1 tsp. cumin
1 tsp. coriander
1 tsp. turmeric
1 tsp. smoked paprika
Cilantro Yogurt
1 bunch cilantro (including stems)
1 tsp. lemon juice
1/8 tsp. cumin
1/8 tsp. coriander
1/8 tsp. salt
1/8 tsp. pepper
1/8 tsp. sugar
4 tbsp. plain Greek yogurt, divided
Tacos
Olive oil
1/2 cup diced onion
1 clove garlic, finely chopped
toasted spice blend (recipe follows)
1/2 cup water
3 cups cooked lentils
1/2 cup raisins
1/2 cup peanuts
Salt & pepper to taste
Corn tortillas
Directions:
1. To toast the spice blend, place all spices in a skillet over medium heat and stir until spices become toasted and fragrant, about 2 minutes.
2. To make the cilantro yogurt, blend all ingredients in blender except the yogurt. Add 2 tablespoons of the yogurt and blend again. Remove mixture from blender and whisk in remaining 2 tablespoons of yogurt in a mixing bowl. Season with salt and pepper to taste. Store in refrigerator until ready to use.
3. For the filling, coat a large skillet with olive oil. Add the onions, garlic, and toasted spice blend. Cook until onions become clear. Add the water, cooked lentils, raisins, and peanuts. Cook until warmed through. Season with salt and pepper to taste.
4. To serve, heat corn tortillas in skillet, add lentil mixture, and top with cilantro yogurt.