I promise I'm not giving up on cooking and resorting to serving slop. This has to be the most unflattering food for photographing. My feeble attempt at jazzing it up with a sprig of parsley didn't add much, but a small pop of color. Even though this Portuguese-Style Chicken Curry may not win any beauty awards, don't turn your nose at it just yet. It's actually quite tasty, easy to make, and leaves your house smelling like something fantastic just happened in your kitchen.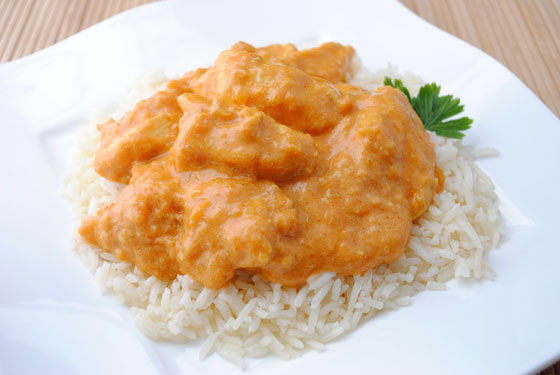 So, how's it taste?
I was really excited to make this dish. Thanks to my friend Sumita (and her mom who cooks like nobody's business), I've found that I like, make that love, Indian food. My first experience with it was years ago and it was horrible. I think I ended up having bread and water for lunch that day after coworkers took me to an Indian restaurant. Fast forward a few years when Sumita invited me over to her house because her mom was cooking up a storm of Indian cuisine. I. Pigged. Out. She made a ton of food and I tried everything. I couldn't believe I let one restaurant turn me off of an entire cuisine for so long. I kept going on and on about Indian food, so last Christmas, my cousin Jeanie bought me an Indian cookbook. Yes, it's Betty Crocker and probably not as authentic as it could be, but hey, you gotta start somewhere. I'm finding it's a great introduction into Indian cuisine.
Now about that curry…I loved it. I really did lift up my empty plate and lick the sauce off. The sauce is tangy and slightly spicy, yet has this warmth and almost cooling effect. My kitchen was so fragrant while I was cooking that I had the cheesiest grin on my face. That's some good food if the smell alone makes you smile that big. Onions, ginger, garlic, tomato sauce, cumin, coriander, turmeric, vinegar, coconut…it's crazy that all that goes into one dish, but now you understand why it smells so intoxicating. The vinegar makes the dish really tangy and I enjoyed it, but might reduce it a bit the next time I make it. Add more cayenne if you like it really spicy. The amount in the recipe is just enough to give you a subtle heat at the end. The coconut and yogurt counteract all that spice with a touch of creamy coolness.
If this is Indian food, why's it Portuguese-style? According to my cookbook, this curry hails from Goa, a small state south of Mumbai. Goa is culturally influenced by Portuguese settlers. So there you go! A little knowledge with your dish of curry!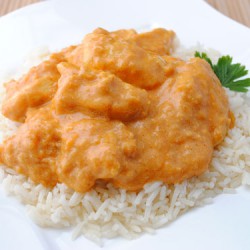 Portugese-Style Chicken Curry
Ingredients:
2 tbsp. vegetable oil
2 medium onions, coarsely chopped ( 1 1/2 cups)
1 tbsp. fresh ginger, coarsely chopped
5 garlic cloves, coarsely chopped
3/4 cup tomato sauce
1 tbsp. ground coriander
1 tsp. ground cumin
1/2 tsp. salt
1/2 tsp. cayenne
1/4 tsp. ground turmeric
1 lb. boneless, skinless chicken breasts, cut crosswise into 1/2-inch strips
1/4 cup white vinegar
1/2 cup coconut milk
1/4 cup plain yogurt (regular or fat-free)
Basmati rice, optional
Directions:
1. Heat oil in wok or 10-inch nonstick skillet over medium-high heat. Add onions, ginger, and garlic. Stir-fry about 5 minutes or until onions and garlic are golden brown.
2. Stir in tomato sauce, coriander, cumin, salt, cayenne, and turmeric; reduce heat. Partially cover and simmer for 5 minutes. Remove from heat; cool 3 to 4 minutes.
3. Place sauce in blender or food processor. Cover and blend until smooth. Return sauce to skillet.
4. Add chicken to sauce. Simmer uncovered 3 to 5 minutes, stirring occasionally, until chicken is partially cooked.
5. Stir in vinegar and coconut milk. Simmer uncovered 5 to 7 minutes, stirring occasionally, until chicken is no longer pink in center.
6. Stir yogurt into chicken mixture. Cook uncovered 1 minute, stirring occasionally. Serve over rice, if desired.